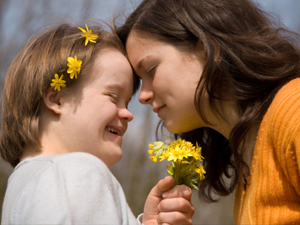 How many times have you heard an expectant mom say, "I don't care if it is a boy or a girl, as long as the baby is healthy?" But what happens when the baby isn't healthy? How does one's world change when a child is diagnosed with major health issues, either before or soon after birth? Is it worth having a child diagnosed with severe special needs in utero if he won't live long or will have a poor quality of life?
For the contributors to A Special Mother is Born, edited by Leticia Velasquez, the answer to that last question is a resounding "yes." As a result of her daughter Christina being born with Down Syndrome, Velasquez has become a pro-life crusader, determined to change the statistic that 90 % of children with Down Syndrome are killed via abortion. The parents who share their stories in this book want to educate others about the value and joy of special needs children.
In his inaugural address, Pope Benedict XVI stated that "Each of us is the result of a thought of God. Each of us is willed, each of us is loved, each of us is necessary." The children profiled in A Special Mother is Born have Down Syndrome, Trisomy 18, autism, brain abnormalities, epilepsy, deafness, blindness, and other challenges. Yet, they have touched the lives of their families and the world around them immeasurably. Some of the children died at very young ages – their parents speak of them as saints in heaven. These are children who never sinned. They are with God interceding for their family members.  As Colleen McGuire writes of her daughter Rita who died of Trisomy 18 soon after birth, "I don't regret one moment of her life. My daughter lived a novena: nine days of love."
These parents acknowledge the suffering and difficulties involved in raising a special needs child. No parent ever wants to see their child suffer or struggle through life. Yet, the experience has brought them to greater trust in God. Diane Grover writes, "We realized we must surrender it all to God; we must humbly hand it all over to Him. He created this child for His purpose. He created this child for His plans. Whatever comes will happen in His time and in His way."
 Lisa Barker has learned to endure great suffering watching her daughter die. "I'd like to write that everything is going to be okay. It will be, but there is suffering to embrace that I cannot run from. Without Jesus' life, example and presence, it is impossible to do. But with Him, it can be done, and there can be a sense of peace and joy even in the midst of sorrow."
Most often, it is fear of the unknown that causes women to abort their special-needs children. Eileen Haupt states, "If only a mother expecting a special needs child could know who her child really is. If only she could feel the joy and the love that she will feel for her baby if she welcomes her into the world. If only she knew how many hearts would be changed by her special baby's presence. If only she knew, she would never abort."
There is currently a war going on against special needs children. While those with Down Syndrome have been the primary targets to date due to pre-natal testing, it is only a matter of time before other abnormalities are also targeted. While there are certainly exceptions, the majority of doctors are far too quick to suggest abortion when something is wrong with the baby. They fail to see the blessings and lessons that these children can bring to the world. They fail to acknowledge the inherent worth of every person created by God. We must fight for life for those who cannot speak for themselves.
Grab a box of tissues and read A Special Mother is Born. Whether you are the parent of a special needs child or not, these stories will open your eyes and your heart and help you to appreciate the value of every child God sends to this world.
[CL Editor's note: A Special Mother is Born will released this fall. We will have more information about it on this website when it is released.]