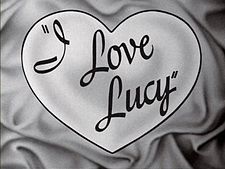 I've always watched I Love Lucy. Lately, though, I notice that there is something about it that speaks to me in a very personal way. It sort of tugs at me. I can't say that the show takes me back to anything in particular because it isn't from a time in my personal life; but, rather, it seems to address a desire for simplicity that lives at the center of my heart.
Despite the fact that in real life the marriage of Lucille Ball and Desi Arnaz did not survive, I have found in talking with friends that the show really taps into something that exists at the core of many women.
We love the quaint Ricardo apartment. There isn't a lot of furniture or tons of space. It is as neat as a pin and we can totally imagine living in that space. When Lucy and Ricky host a card game they need to move the couch out of the way to bring in the folding table and chairs. And yet the card games are always fun despite the tight space. The sparse kitchen is behind a swinging door and, upon close inspection, we see it has very little cupboard or countertop space and yet Lucy and Ethel were able to make hundreds of jars of homemade salad dressing in the confines of that small area. We just knew they managed!
Over and over again we watch the antics taking place in the Ricardo apartment and there is a little spot inside of us that desires that easier, simpler life. The small sofa and the easy way Ricky lounges while he reads the paper just seem so inviting. We want to be right there. Even if we aren't a "keeping up with the Jones'" type of person, there is still a simplicity in all the scenes that draws us to Lucy's life.
The gang's move to the country was no exception. The place was a bit larger but still the simplicity of life emanated from the wood panels and the view of the yard. Consider when they began raising chickens or growing tulips. We can see ourselves trying to do those exact same things and can feel the satisfaction—even when none of it works out—for our efforts. Simplicity in life does that—it brings a sweetness that settles our chaotic mind and restless spirit.
I've read numerous articles on how Lucille Ball's follow-up shows were never quite as successful as I Love Lucy. No one seems to be able to put a finger on it and they say such things as "viewers no longer wanted to watch her antics" but I think they have sorely missed the point. I know why none of her following shows ever achieved the success and endurance of I Love Lucy: they didn't capture the essence of what pervaded that original show—and why we still love Lucy, maybe now more than ever.
I Love Lucy, with Lucy doing housework in a dress and heels, touches our hearts because we all long for a simpler time. Maybe that time never existed in the "real" world but that doesn't remove the desire we all have for it in our daily lives. I see it as placed there by God. We don't quite understand—we cannot grasp or maybe we just don't want to believe—that simplicity can be so rewarding. But there it is, sitting deep down inside each of us—that longing for a simpler life—and it is why we still love Lucy.