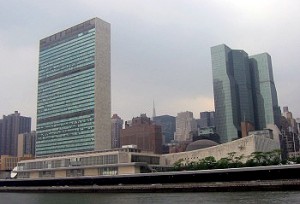 The enthusiastic voices of pro-life youth from around the world dominated the events of [last]week's High Level Meeting on Youth at the United Nations, drawing the attention of UN bureaucrats and delegates alike.
"I keep running into all these pro-lifers, they're everywhere…in fact most of the people I've interviewed are pro-life," a young woman working for UNFPA told a member of the International Youth Coalition as she interviewed conference attendees. 
"We [members of the International Youth Coalition]were half, if not more, of the young people actually at the conference," a participant from the International Youth Coalition told the Friday Fax.  "And any people who spoke against us [and our message about human life]were adults, not youth."
The International Youth Coalition's "Statement of Youth to the UN and the World" was presented to the General Assembly's session on Monday.  The statement, which outlines eight principles based on the dignity of the person, was received with applause by the youth in the NGO gallery.
In addition to participating in the official events of the UN's High Level Meeting on youth, the members of the International Youth Coalition hosted a "Youth Formation Day" led by a group of nationally renowned speakers, many of whom were youth, who presented to an audience of over 100 youth and members of non-governmental organizations.
"The pro-life youth who participated in the conferences' interactive panels and discussions spoke with such passion, not staring at a paper, but looking at us, at the audience.  The others [those who worked for UN agencies or related organizations]looked bored, like they wanted to leave and be done with it… they were not totally engaged," another youth participant explained to the Friday Fax.
The International Youth Coalition also sponsored an event hosted by the Holy See Mission to the UN, which presented a view of youth that centered on dignity and living life in true freedom, instead of a life guided by selfish passions.
"Youth have a lot more on their minds than sex.  Our youth are in need of a challenge to a life of true greatness," explained one of the presenters, former America's Next Top Model contestant Leah Darrow.  Darrow's challenge to the youth and delegates alike joined with those of Kristan Hawkins of Students for Life of America, Meghan Knighton of the Catholic Near East Welfare Association, and Jeffrey Azize and Michael Campo, producers of the critically acclaimed documentary, "The Human Experience." 
The presenters criticized those who painted youth's future with bleak brushstrokes, insisting that the key to realizing human dignity is to challenge youth and all of society to live a life of virtue.
Archbishop Francis Chullikatt told the Friday Fax, "The young panelists beautifully manifested the important role of young people in transforming today's society and culture through Gospel values.  Their personal witness to Christian life is the kind of legacy that needs to be left for future generations."