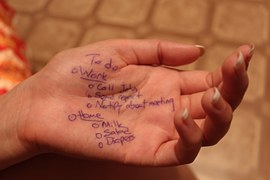 Lent comes early this year. February 10th is Ash Wednesday! That's just three weeks away, folks. So instead of waiting until the last minute and grasping at your old standbys (giving up chocolate or God forbid, coffee), why not plan ahead using our convenient list of resources below? Make this your most spiritually fruitful Lent ever!
Reprinted with permission from CatholicSistas.com.
GENERAL RESOURCES
Praying Lent: Daily prayers, online and audio retreats, articles, recipes (Creighton University)
CRS Rice Bowl App: Daily Reflections, tool for tracking goals and progress, and recipes
Video: Ash Wednesday and Lent in 2 minutes (Busted Halo)
Pinterest: Lent pins by Catholic Sistas
Lenten Workshop by Catholic Culture
Online Lenten Retreat (Ignatian) by Loyola Press
SACRIFICES AND DEVOTIONS
Your Handy-Dandy List to Lenten Sacrifices (2014) by Catholic Sistas)
101 Creative Ideas for Lent by One Catholic Life
Outside the Box: 66 Things to Give Up or Take Up for Lent by Catholic All Year
40 Days, 40 (Different) Sacrifices by Rethink Lent
5 Creative Fasting Ideas via Patheos
SUGGESTED BOOKS
2016 Lent Companion for Teens by LifeTeen
40 Days, 40 Ways: A New Look at Lent by Marcellino D'Ambrosio
Lenten Journal by Sister John Dominic Rasmussen, O.P. and the Dominican Sisters of Mary, Mother of the Eucharist
The Magnificat Lenten Companion is always a popular resource.
Lenten Grace: Daily Gospel Reflections from Pauline Books & Media
The Living Gospel: Daily Devotions for Lent 2016 from Ave Maria Press
Bringing Lent Home … Books by Donna Marie Cooper O'Boyle. There appear to be three of these … with St. John Paul II, … with St. Therese of Lisieux, and … with Mother Teresa. These are also from Ave Maria Press. (Link is for one of the books, other two are listed on the right side of the page.)
Welcome Risen Jesus: Lent and Easter Reflections for Families by Sarah Reinhard
LENTEN/CATHOLIC APPS
Lentsanity–articles, reflections, the "Meat Police," and more
MeaCulpa and Confession–for making a good confession
Laudate–daily readings, rosary podcasts, Catholic media articles
OTHER MEDIA
"Best Lent Ever"–Matthew Kelly's site, Dynamic Catholic, will send you emails and short video clips each day of Lent.
Relevant Radio–Daily prayers, podcasts, a Stations of the Cross, and more. While there, download the free app to listen to the station wherever you are.
LENT IN THE HOME–CHILDREN, FAMILIES, CRAFTS, & MORE
Resurrection Cookies (night before Easter)
Lenten Activities for Children by Catholic Mom.com
Walking Through Lent with Small Children by Two Os + more
40 Simple Lenten Activities for Kids by Call Her Happy
40 Ways for 40 Days and Stations of the Cross Carousel with New Kelly Saints Craft Kit both by Equipping Catholic Families
7 DIY Lenten Crafts & Books by Campfires and Cleats
Stations of the Cross Box for Kids by A Knotted Life
Intentional Lent by Better Than Eden
7 Ways to Make This the Best Lent Ever by One Catholic Mama
Christmas is Over, Feast Days and Lots of Lent Posts by A Slice of Smith Life
Ways to Observe Lent at Home: Stational Churches and Lent "Wreath" by Living with Lady Philosophy
HDYDI: Make Lent 40 Days of Awesome by Team Whitaker
Lenten Family Night Ideas by Christian Family Movement
MEATLESS MEALS
Lenten Meal Planning by Orthodox Mom blog
25 Meatless Meals for Lent by A Blog for My Mom
Foods.Meals.Meatless on the Catholic Sistas Pinterest Board
Meatless Meals from Around the World by the CRS Rice Bowl Project
Meatless Lent Recipes by Food & Wine
12 Meatless Lent Meal Ideas by Dr. Taylor Marshall
SOUND OFF: Do you have a link to add to the list? Add it in the comments below!
I wish you all a Lent full of God's blessings, as we prepare our souls for a blessed and joyful Easter!