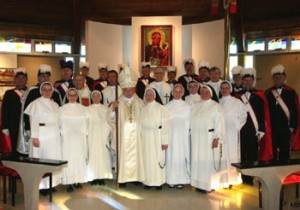 As the sun sends red and blue hues through the stained-glass windows into a convent chapel in the Chicago area, a dozen Dominican Sisters of the Immaculate Conception enter the rooom for their morning prayers. Their voices blend into invocations of praise as they chant the Liturgy of the Hours. Their white habits with black veils look crisp and tasteful in morning sun.
These sisters, whose members in North America can also be found in three other cities on the continent, were founded in Poland and have a most interesting beginning. Their work of Christian education and the care of others sprang from the zealous vision of their foundress, an amazing woman who was gifted with many graces and who laid the foundation of a worldwide religious congregation at the tender age of 19.
Mother Maria Rose Kolumba Bialecka was born August 23, 1838 in eastern Poland. At the age of 19 she entered the novitiate of Dominican Sisters in France. Shortly after making her first religious vows she returned to Poland to lay the foundation for the community of Sisters of the Third Dominican Order.
Here are some insights from Sr. Leonarda, the director of vocations of the American Province, in Justice, IL, about this group and its foundress.
Q. What is role of the life of your foundress, Mother Kolumba, within your congregation?
A. First of all, we pray every day for her beatification. We also encourage others to pray and we distribute cards with a prayer for graces through her intercession. We also use some of her prayers – they become important parts of our daily prayers.
Q. Do you celebrate or commemorate her life?
A. Every year we celebrate Mother's feast day – May 20th – the day dedicated to her Patroness, Bl. Columba. We commemorate the day of Mother's death, March 18, and her birthday, August 23. In formation houses, the youngest sisters often prepare for those occasions some kinds of performance: a little play based on Mother's life or writings, or a celebration that includes reading Mother's writings and singing songs about her.
Also, our Sisters who work in schools usually have a class about Mother Kolumba – they teach children and youth about her life, and present her as an example.
Q. How does her life inspire your members in your day-to-day work?
A. Mother Kolumba wanted her sisters to work with people of all ages – children, youth, adults, and elders. She was a teacher, a catechist, and a caregiver. She prayed a lot for her Sisters, and for all who would ever need her prayers. She visited the sick and dying, she helped them to endure the sufferings and prepare themselves for the meeting with our heavenly Father.  Mother's devotion to the Eucharist and Our Lady is the example for every sister of ours. Imitating our Mother, sisters teach about God; run kindergartens; teach in schools; lead retreats for children, youth, adults; take care of sick and dying — wherever we are sent, our goal is to preach the Gospel – in many ways – to those who are most in need.
Q. In which countries throughout the world are you located?
A. In Poland, Belarus, Ukraine (Europe), Russia, Siberia (Asia), Cameroon (Africa) and the US and Canada – we pray for those to whom we are sent. We try to bring God into their lives; and through teaching and witness of life, we preach the Gospel.
Q. Is English spoken in your community, as well as Polish?
A. Here, in the U.S./Canadian Province, English is necessary; therefore, every sister who comes from Poland has the opportunity to study this language. American candidates are not required to learn Polish, though they are encouraged to do so, since we are often working with Polish employees and cooperating with Polish parishes and missions. In general, our sisters learn the language of the country: English, Russian, Ukrainian, Italian, or French, in Cameroon.
Q. How many novices have been received in your congregation recently?
A. In the last two years, 15 novices made their first profession in our congregation worldwide. Of those, 13 of them entered and received their formation in Poland. Two of them were received here in the U.S., for the American Province.
Q. How should a young woman inquire about a vocation to your congregation?
A. Please write to me at sr.leonarda@sistersop.com, or find out more about our formation on our website at http://sistersop.com/blog/vocations/formation-with-the-dominican-sisters/.