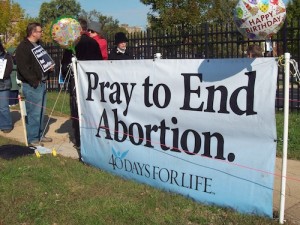 40 Days for Life is a grassroots effort. Even as the campaign continues to grow, our headquarters team tries to visit as many 40 Days for Life locations as possible. It's important for us to meet with you, and your fellow volunteers, at your prayerful vigil.
With 297 cities in 11 countries conducting 40 Days for Life campaigns right now, it's not humanly possible to get to every location … but one man seems to be making a run for it: Robert Colquhoun. Robert is our London-based international outreach director and he is on a 40 Days for Life world tour — literally!
As the man who brought the first 40 Days for Life vigil to Great Britain a few years back, Robert knows what it takes to lead a campaign and overcome difficult challenges and persecution. He also knows what it's like to meet a baby who was about to be aborted.
During this campaign, Robert will be visiting Africa, Australia, South America and Europe, so look for more updates from him over these next few weeks.
GHANA, NIGERIA AND SOUTH AFRICA
Watch Robert's inspiring five-minute video report, straight from the 40 Days for Life front lines in Africa:
There are currently six campaigns underway in Africa, and Robert was able to meet with 40 Days for Life leaders there and visit several of the locations.
The culture differs greatly from North America or Europe, and the legal landscape varies in each country as well. But in each location, the need for life-affirming outreach is clear … and, as you'll see in the video, lives ARE being saved!
RIGA, LATVIA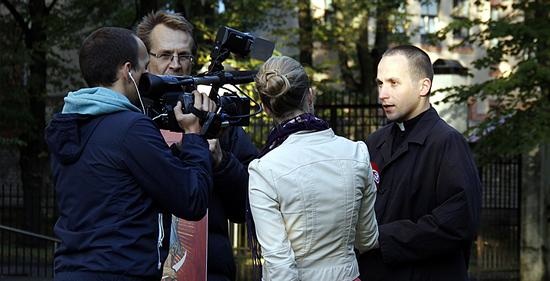 The first 40 Days for Life effort in Latvia's capital city is getting attention from the people – and the media. "One of the biggest newspapers published a story about our activities," said Janis, the leader in Riga, "and more mass media interest was created by that newspaper article."
One TV station interviewed Janis and Fr. Aivars Licis, a priest who's been helping with the campaign. That's Janis who is partially hidden by the cameraman in the photo. "It gave us an opportunity to explain our position on abortion," he said.
Volunteers conducted a prayer walk from St. Albert Church, which is close to the hospital. They walked around the hospital fence and returned to the church for prayer in the Garden of Souls. "That's a small monument in our church garden dedicated to aborted and miscarried children," Janis explained
He said the 40 Days for Life devotionals, which have been translated into Latvian, are especially popular. There's a group that prays with the devotionals in church each morning. "Another friend told me he was downloading the devotionals and praying at home."