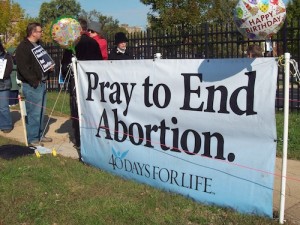 The pro-life initiative 40 Days for Life can boast a lot of numbers over six years: 600,000 participants in over 500 cities; 8,245 lives saved, 44 clinics closed and 88 clinic workers who left their employers. But numbers can't quantify the kind of impact the apostolate has had on so many lives and the renewed energy it has provided for the pro-life movement as a whole.
Shawn Carney, a member of Msgr. Allen Doga Council 14512 in Spring, Texas, was part of the original 40 Days campaign in College Station, Texas, in 2004. In 2007, he and David Bereit launched it as a national effort. Carney and his wife, Marilisa, have been married for 10 years and have four young children.
He spoke with Fathers for Good as the nation prepared to mark the 41st anniversary of Roe v. Wade.
Fathers for Good: Is 40 Days for Life a family-friendly event? Should you bring young kids?
Shawn Carney: Absolutely. Of course, the nature of what we do is peacefully praying at an abortion facility. There's not a better witness to life than children themselves. It's rare that we feel or a local leader feels that a location is unsafe for children, and if that's the case, certainly not. We have to make sure it's in a good part of town and the public right of way is a place where you could have children.
But by and large the vigils are very family friendly, and if you go to a 40 Days for Life vigil you will see children, most likely, children in strollers, high school kids, college kids, kids in elementary school – and that's the best witness. I take my children to the Planned Parenthood in Spring, just outside of Houston, and it's such a powerful witness. It's also a great way to introduce them to this wonderful movement and help explain the injustice of abortion because children often get it better than we do, and their prayers are much more powerful than ours. So it's a beautiful witness to have families participating and leading 40 Days for Life campaigns across the country.
FFG: How does a father raise pro-life kids?
Carney: By example and prayer. Our kids aren't going to do anything that we don't do. We have to practice what we preach. I think the biggest witness fathers have to their kids is loving them and giving them attention. It doesn't necessarily mean signing up for 20 different things in the parish so that we're so busy we don't see them ever. But it's focusing on them and nurturing your fatherly love for them. And that's really what speaks to children; it's what makes them want to be pro-life because they'll want to be like you.
In all of our works, our prayers in the pro-life movement, we have to do it in a way that's going to enrich our family life and that our children are going to see as an example, as a way of living that brings joy. Abortion survives on despair; it survives on loneliness, and the family is the complete opposite of that. The family is a community, the domestic church, the most powerful tool we have in our culture, and we have to nurture that. So it really does start at home, and it starts with fathers making their children a priority.
FFG: Do you keep in touch with the mothers who change their minds outside of clinics, and the children who are later born?
Carney: Absolutely. One of the best examples is a young mom we have in one of our videos online. She went into an abortion facility in Milwaukee, Wis., and we had a big burly man out there, a great guy named Dan Miller, who was a 40 Days for Life leader in Milwaukee. She was walking in and she made eye contact with him, and he said, "God bless both of you this morning," referencing her child. And she went into that abortion facility; she sat in the lobby and she could not get that out of her mind.
So she ended up choosing life and gave her baby boy up for adoption to a family, and she actually then began participating in helping lead the 40 Days for Life in Milwaukee, and she actually became a sidewalk counselor and has helped save multiple babies. She saved the 41st baby of that campaign this last spring — a mom who was going in just a year after she went in, and she was able to say, "Hey, I've been in your position, I've been in those shoes," and her circumstances were very difficult. It wasn't a picture-perfect scenario; it never is. But it was such a powerful witness, and now to see pictures of her beautiful little baby boy who was baptized, and it's just such a joy to see moms like that. They're so courageous.