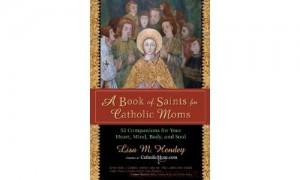 Like any good Catholic kid growing up in the '60s, I had favorite saints, those holy people who brought me comfort and fed my curiosity and imagination. How I loved the Blessed Virgin Mary! Then there was Saint Anthony, who stood there in his plaster glory, with all the old ladies standing around the base of his statue, touching his foot, deep in prayer. I knew he would help me find things if I lost them. Saint Therese – oh, I thought she was the greatest; mostly because I liked the look of her habit and that she had those roses! Over the years I drifted far from church, but never far from my love of the entire company of saints.
That is why I love to read any book about the communio sanctorum, or communion of saints. How can one not be inspired by these people who were human, ordinary, and yet quite extraordinary as they lived lives of challenge, grace and hope in Christ?
A Book of Saints for Catholic Moms, a new book by Lisa M. Hendey from Ave Maria Press, is a great resource for not only learning about the saints, but also for finding ways to nurture your spirit and the spirit of your family and friends. While this book is aimed at Catholic mothers, I can see it put to use in many wonderful ways.
Hendey lovingly presents us with "52 companions for (y)our heart, mind, body and soul," in a format that is pointed to weekly use. We learn about saints that are well known by all, such as The Blessed Virgin Mary, St. Therese of Lisieux, and St. Bernadette. Personally, I was delighted to find others that I love… St. Mary MacKillop and St. Andre Bessette to name two of them. However, there are lesser-known saints as well, and not only the canonized, reminding us of the essential truth that we are all invited to be saints.
Each chapter is organized around basic information about the saint, and their story, along with sub-headings for lessons, traditions and wisdom from that person. I loved the "This Week with Scripture" element, which draws one into daily Scriptural prayer. Hendey offers suggestions for activities, prayer for families, and the prompting to ponder some questions as each chapter draws to a close.
The format is easy to read, as well easy to use in a practical manner, all done in a way that will feed one's spirit. The author's writing style is comfortable and welcoming, inviting anyone who picks up this book to stick around for the journey.
Is this a book for Catholic moms? Yes! Is this a book that can be read by others? Absolutely! I can easily see it put into use as part of small faith sharing groups, prayer circles or as an element of intergenerational catechesis.
Not Catholic? I know many people who have curiosity about the saints. While there is no shortage of books about them, I would unabashedly recommend this volume to anyone who wanted to learn more, and prayerfully enter into relationship with people we pray through, not to, on our journey with Christ. Not a mom? Not a problem! You can take this book as a prayerful companion along the way, exploring ways to walk and pray with the saints.
Typically I get ahead of myself and I find myself doing so now, getting a glimpse of the sadness that I will feel in one year, as my use of this book will draw to a close! Once again, the saints remind however, that I must stay in the moment that I have. And I think I see this book becoming one that I will return to over and over again. I hope that you will take this walk with me, with Lisa M. Hendey and most of all, with the saints themselves, as we go along our way.