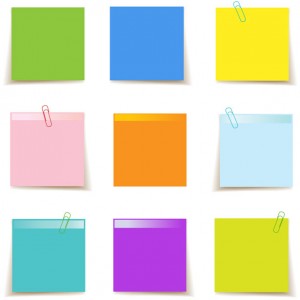 A sticky note on the bottom of my computer monitor at work features three simple words, but a powerful command:
Be Jesus Today
If I have a consistently whispered "mantra," that's it. I say it to myself every morning. The note reminds me of my personal desire throughout the workday. At night, as I reflect on my day's activities and thoughts, I hold myself to that self-imposed standard.
Am I expecting something unreasonable? Well, in the First Letter of John, the apostle writes: "Whoever claims to abide in him ought to live as he lived." Later in that same letter, he says: "By this we know love, that he laid down his life for us, and we ought to lay down our lives for the brothers." Paul wrote to the Philippians: "Let each of you look not only to his own interests, but also to the interests of others. Have this mind among yourselves, which is yours in Christ Jesus."
Jesus himself told his apostles: "This is my commandment, that you love one another as I have loved you."
So, yes, we are called – commanded – to live just as Jesus lived, think just as Jesus thought, love just as Jesus loved. We are to be the hands and arms, feet and legs, mind and heart of Jesus in our world today.
Of course, that's not easily remembered during the course of each day. Some years ago, in an attempt to infuse some morality into a highly secularized world, one phrase swept the nation: What Would Jesus Do? Millions of people wore WWJD bracelets and bought other items with those initials in order to remind them that every decision in life should be examined from that perspective. Thomas a Kempis, a 15th-century writer, probably first popularized the question in his book The Imitation of Christ; English evangelical preacher Charles Spurgeon used the question in quotation marks in an 1891 sermon.
The popularized question "What Would Jesus Do?" actually came from Charles Sheldon's 1896 novel In His Steps: What Would Jesus Do?, one of the best-selling books of all time with more than 30 million copies sold. Even almost 120 years after Sheldon first delivered the story in a series of sermons, the book still holds up well as a decent and entertaining read.
The unfortunate part is that about a century after the book was published, the second half of its title was the part on which all those "reminder" bracelets was based. WWJD makes Christianity into a series of individual actions based on decisions throughout the day. "IHS," for In His Steps, instead would reflect a way a life, a way of walking and thinking not just in the making of decisions but in the journey that leads a person from one decision to the next.
Be Jesus Today isn't about making the right choices. Rather, it's about living the right way, the Godly way. It's not about doing things like Jesus but being like Jesus. If that becomes the desire of your life, then you need to exist with a certain mindset 24/7. It's about commandments and rules, stated by Jesus himself:
The Greatest Commandments: "You shall love the Lord, your God, with all your heart, with all your soul, and with all your mind. This is the greatest and the first commandment. The second is like it: You shall love your neighbor as yourself" (Matthew 22:37-39).
The Golden Rule: "Do to others whatever you would have them do to you" (Matthew 7:12).
With all of those in mind, I have written what I consider my personal "Golden Rules." I have a copy of them on my cubicle wall at work and try to read them at least once a day. I want them to become not just a part of the way I think in the midst of every decision. I want them to be ingrained in every thought and action, every conversation and footstep, every hope and frustration and prayer.
Am I good at it? Sometimes. Frankly, most days I fail miserably. Believe me, "being Jesus" is more like a conversion, desire and process than it is like a definite and final earthly destination. My abilities constantly are being refined by spending time in prayer, receiving the sacraments of the Church, reading Scripture and observing how well many people model Christ.
I won't list all of my 12 "Golden Rules," because some might be different for me than for you. For instance, I think it's important to say people's names when you talk with them, to smile often, to find humor whenever appropriate.
Some recent events in my life and watching others "being Jesus" have confirmed three really important of my "Golden Rules" for me: My mom lying in an intensive care unit hospital bed for four days before she passed away May 23, her visitation at a funeral home five days later, then her funeral May 29. These were the modeled rules from my list:
What you do for others means more than what you do for yourself. Look for opportunities to serve someone else. Then offer help. Everybody needs help.
Say and do things that indicate you genuinely care about the people you are helping. But don't just act like you care. Learn to care.
Attend to others in time of grief, be it through visiting a funeral home, attending a funeral/memorial service or perhaps with a written note to someone in the midst of suffering. There is grace in compassion.
My family was overwhelmed and humbled by the outpouring of love and support from other family members, friends and even people whom we hadn't met and had never met my mom. People brought meals to us, in the hospital and at home after Mom's death. People sent notes of encouragement, comfort and sympathy. Countless prayers and memorial Masses were offered. There were dozens of plants and flowers in the funeral home, hundreds of cards and emails, text messages and phone calls.
My mom had touched so many people of all ages throughout her life, and those people were moved with emotion. My family was served in our fear and sadness and grief. And we knew clearly that every tear and hug was genuine. We had no doubt that people cared.
I'd estimate there were between 500 and 600 people who expressed their sympathy to us during the five hours of visitation that Thursday night and Friday morning. I'd guess between 300 and 400 celebrated Mom's faithful life with us at that Friday funeral Mass. Many of them joined us at the burial site, and more than 200 shared lunch with us that afternoon.
Yes, it was a powerfully touching tribute to Madge Eisenbath. It also was an amazing time of people following great commandments and rules. They were modeling Christ for us.
When I seek to "be Jesus" each day, I will remember easily what that looks like.