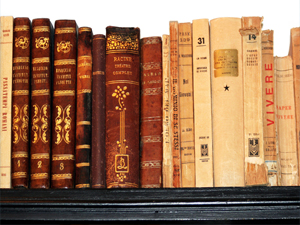 God, I've found, utilizes a "just-in-time" operational model.  And He chooses the most unexpected vendors and suppliers, mixing them together in unforeseeable combinations.  As this mystery story reveals.
It's a mystery that begins with a love of books, is leavened with some good old-fashioned cheapness, and ends with a Black Day turned Red, thanks to the mediation of a dead Bishop, a priest I never met, the Unknown Instigator and the Unknowing Messenger.
First the love of books.  I love to read them, to feel them in my hands, I even love the smell of books.  I think it's a natural affinity inborn to all men – as proven by my 16-month-old daughter.  She can't read, but she loves to pull books off our shelves and run around the house with them, flipping through the pages.  They end up in the oddest places, which is usually cute, like when you find a book she particularly loves sitting next to the milk in the refrigerator.  But it's not so cute when you find them floating in the bath tub.  The hazards of a bibliophile's life with small children. 
I also love to acquire books.  This is where the cheapness plays its part.  Growing up one of eight children, I developed a large respect for the value of little pennies. But when it comes to books, I'm aided by the dear dead Bishop of this story:  The Most Reverend Archbishop John Ireland.  Born in Ireland, educated in France, he served as a Chaplain in the Civil War and eventually became the first Archbishop of St. Paul, Minnesota.  A colonizer, he founded (or helped found) more than a dozen towns in the American West, and a host of institutions in St. Paul and around the country, including:  The Catholic University of America (CUA) in Washington, D.C. (where my wife went to college), St. Thomas University (which brought my wife and me to St. Paul), and in 1894 the St. Paul Seminary (which numbers among its illustrious graduates 31 bishops and counting, including Archbishop Fulton Sheen, who also taught philosophy at CUA for 24 years).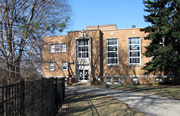 As part of the St. Paul Seminary, Archbishop Ireland also founded what is now known as the Archbishop Ireland Memorial Library.  It's one of my favorite libraries.  The reading room is magnificent:  twenty-foot ceilings, long wooden tables, stained glass windows, busts in marble and bronze, displays of archaeological finds from the ancient Mediterranean, Medieval illustrated sheet music, pictures of popes – a neat place.  The library also has a friendly staff, a microwave, free wi-fi, and a quirkiness I appreciate.  For example, on the landing leading to the second floor there's a table with a chess game set-up.  Two empty chairs face each other with a little cardboard sign pointed at one chair that reads "Your move."  You're welcome to take the empty seat and make the next move.  Then you turn the sign around to the other chair and wait until you come back to see how the game has progressed. 
They also have a special tradition, started by the Unknown Instigator.  Here the mystery progresses.  As a Seminary library, the collections and patrons of the Ireland lean heavily toward the religious.  An unknown person, sometime long ago, started tucking prayer cards into books when returning them to the library.  Whoever it was had a knack for evangelization.  The idea caught on and now the Ireland Library has thousands of prayer cards.  And here again we see an example of why I love the Ireland.  The staff, aware that they had a rare and special, if unlooked for, treasure, decided to preserve the prayer cards by digitizing them.  The library web-site posts the images of those that have already been scanned.  Pretty cool. 
But above all, I love the Ireland for the books.  And not just the ones in their collections, but also the ones they give away.  That's right, the Ireland not only holds books, it also gives them away.  It's a small library with limited space, so they are constantly combing through the stacks, pulling out the old to make space for the new.  The culled stock goes first to the sale table, where a hard-back sells for $1.00 and paperbacks for $.050.  Things lingering too long on the sale table make a final stop at the freebie-cart.  Located just inside the front door, under a smiling bronze bust of Archbishop Ireland, a sign above the cart says:  "Free – Help yourself to any of the books or materials on this cart". 
On the venerable freebie-cart I've found many a treasure.  So many, in fact, that my wife put me under orders to slow the pace of acquisitions.  Free or no, she noted, our family library had to recognize the same constraints of spatial reality that compelled the Ireland to discard the books in the first place – and I was given to understand in no uncertain terms that the refrigerator was not a viable option for additional book storage capacity.    
One of those treasures from the Ireland came in handy on my Black Day.  The Romans considered certain days "Black Days" – days so bad you were forbidden from performing any public business, religious ceremonies, or even conducting private business.  Black Days were, and are, pretty bad — and on the day this mystery unfolded I was experiencing my own. 
I was in the kitchen getting our daughter's lunch ready, mulling over in my mind — with particular fervor and bulldog persistence — the grievous woes of the world.  Well, not so much the whole wide world as the problems of just one particular member of the world:  me.  I stood there ruminating on my burdens, cutting carrots with a vengeance – Chop!  Chop! – and scowling like Ebenezer Scrooge after Bob Cratchet asked for a second lump of coal to warm the office, when our daughter walked in.  She was holding a little slip of paper.  She toddled up to me and held the paper out in her little fist. 
I stopped what I was doing and looked down at her. 
"Hi Love," I said, "how are you doing?"
"Hi-ya!" she answered, reaching the paper out to me.
"What's this?"  I asked her, bending down to look at it.   
She gave it to me, then ran off, beaming with satisfaction at having successfully completed her delivery. 
It was an old prayer card from the 1930's, which began:
The Apostolate of Smiling
Just a Little Smile on Your Lips
            Cheers your heart
            Keeps you in good humor
            Preserves peace in your soul
            Promotes your health
            Beautifies your face
            Induces kindly thoughts
            Inspires kindly deeds.
 SMILE TO YOURSELF . . .
until you notice that your constant seriousness, or even severity, has vanished.
 SMILE TO YOURSELF . . .
until you have warmed your own heart with the sunshine of your cheery countenance.  Then . . .
            Go out – and radiate your smile.
THAT SMILE . . .
has work to do – work to do for God.
            * * * * *
  That's just an excerpt, but I read the whole thing.  It's good.  Written by a certain Father Bruno Hagspiel, S.V.D., about whom I knew nothing (an internet search told me he was born in "West Prussia" in 1885 and immigrated to the United States in 1910), it's a sort of Litany of Smiling, a cross between an exhortation and a prayer, the kind of thing Norman Vincent Peale might have written if he'd been a Dominican. 
The Unknowing Messenger, unable even to read, had just delivered a message from a priest I never met.  Transmitted via the prayer-card tradition started by the Unknown Instigator and made possible by the dead Bishop's founding of a library, it was brought by a love of books (combined with cheapness) into the range of a one-year-old's curious hands, to be conveyed to me at the very moment I needed that message. 
I smiled.
I had to.  How can you not when something like that happens?  Besides, I figured I better.  As Pope John Paul II said:  "In the designs of Providence there are no mere coincidences," and the message I got was clear.  I didn't know how forcing a fake smile on my face could make any difference when I was wrestling with dark thoughts in my breast, but no one asked my opinion — I just got the message that I had better smile.  So I did.    
It worked!
I don't know how or why, but it really did cheer my heart.  And I found that once the dark spell of gloom is pierced, even by a pin-prick, it bursts like a balloon.  With a snap of the fingers, my Black Day was transformed into a Red Letter Day (which comes from Medieval church calendars, that marked Saints Days and other special days in red letters).  And the letters spelled:  S-M-I-L-E.
It also helped me realize the importance of vocations.  Certainly the vocations of priests and other professed religious, who were among the main actors in my personal drama.  But those not called to religious orders have their own missions as well.  God's work needs doing, and He calls on each of us to contribute our labors, mighty or meager as they may be.  At times that can be hard to remember, especially when it seems we have only a bit part in a great spectacle.  But that's only because we're not given to see all the fruits that grow from our contribution to the grand pitch-in of Creation and Salvation.  Bishop Ireland, Father Hagspiel, the Unknown Instigator — even the Unknowing Messenger — none of them knew how they impacted the life of a new father, and through that a whole family.  As Aslan says in The Chronicles of Narnia, "I am telling you your story, not hers.  No one is told any story but their own."  The mystery of how our own story will alter the stories of others, of how all the threads combine together to form the tapestry, isn't ours to know.  Following the line of just one strand the whole design can't be perceived.  That requires standing back to see the entire tapestry.  Confined as we are to the perspective of our life alone, we can't see the whole design, but then, we don't need to.  What's important is just to know that we have work to do, and that work counts.  As George Weigel wrote in Letters to a Young Catholic:  "There is purpose in the world, divine purpose."  Even if we can't know all the effects our work has, we can know that it is effective.  It matters.  It did to me, and my family.  The Bishop and the priest, the Unknown Instigator, each doing his or her own work as best they could, combined together to touch the life of our family, whose existence they didn't even know of.  That's the kind of effect our vocations can have, beyond ourselves, beyond our own perception or knowledge, beyond our own places and even our own times.  So if a moment comes when you find yourself discouraged, think about a mystery, the mystery of how God uses the most unlikely instruments – including even us — in the most unforeseeable combinations, to reach out into the world in ways we can't imagine. And smile. © 2011 Jake Frost