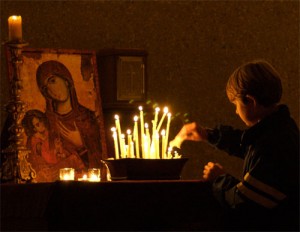 "Herein is love, not that we loved God, but that He loved us, and sent His Son to be the propitiation for our sins" (I John 4:10).
"O Lord God, You have begun to show Your servant Your greatness, and Your mighty hand: for what God is there in heaven or in earth, that can do according to Your works, and according to Your might" (Deuteronomy 3:24).
Advent is a penitential season during which the faithful reflect upon the villainy of man and the nobility of God. Such meditation is proper before Christmas, which celebrates the incarnation of the Word. The awesome condescension of the Divine is impossible to appreciate unless we recognize the infinite gulf between creature and Creator.
How lowly and vile is man, made beautiful by God but rendered ugly by his own treachery? What wickedness has he not savored? What vice has he failed to make his own? "There is none upright among men . . . The best of them is as a brier: the most upright is sharper than a thorn hedge" (Micah 7:2, 4). Not only is man rotten, but also ignorant, for he cannot judge the consequences of his actions. If only we knew the true repercussions of our sins: how they ooze like toxic sludge through the lives of others! The Apostle spoke for all people when he mourned: "For I know that in me (that is, in my flesh) dwells no good thing" (Romans 7:18).
Alienated from God, man in his corruption seeks that which is corrupt, as like seeks like, for "the soul of the wicked desires evil" (Proverbs 21:10). Even as children there is no innocence because "the imagination of man's heart is evil from his youth" (Genesis 8:21). Saint Augustine perceived that it is not virtue but rather weakness that keeps a babe from sin, though even in the cradle his passions are deplorable: "I myself have seen and have had experience with a jealous little one . . . it was pale and bitter in face as it looked at another child nursing at the same breast . . . Is it really innocence not to allow another child to share in that richly flowing fountain of milk, although it is in great need of help and derives life from that sole source of food" (The Confessions, Book I, Chapter 7). Thus the Psalmist cried in one voice for all humanity: "Behold, I was shapen in iniquity; and in sin did my mother conceive me" (Psalm 51:5).
In this degenerated state, there is nothing man can do but wallow in his own filth. "There is none righteous, no, not one: There is none that understand, there is none that seek after God. They are all gone out of the way, they are together become unprofitable; there is none that do good, no, not one. Their throat is an open sepulchre; with their tongues they have used deceit; the poison of asps is under their lips" (Romans 3:10-13). Man burns to sip from the cup of God's beatitude, but he is blind and deaf, utterly paralyzed, dead in his trespasses (cf. Colossians 2:13).
This dismal talk accosts modern ears with its hard and uncompromising truth. Yet the darkest nights give way to the brightest dawns. The more terrible man's lot, the more wonderful God's saving work. Behold the Three-and-One, the Thrice-Holy Deity, who is "merciful and gracious, longsuffering, and abundant in goodness and truth" (Exodus 34:6). Saint Augustine sang: "O You, the Good Omnipotent, who so care for each one of us as if you care for him alone, and who care for all as for each single person" (The Confessions, Book III, Chapter 11).
God, with tender affection for His wayward children, stoops down from His eternal abode and breaks into history. Through the sons and daughters of Israel, and through pious gentiles, He worked in eons past, gradually preparing the earth to receive its King. In the fullness of time, His Word clothed Himself with a robe of flesh and walked among men as a servant, dying a gruesome death so that many might live. Now, in the present age, God dispenses bountiful riches through the Church. Furthermore, His Spirit moves mysteriously through the hearts of men, breaking Satan's bonds with breath of heaven and water of baptism.
Without the saving grace of God, which strangely and subtly "blows where it will" (John 3:8), man would be lost. We would drown in the cesspool of wickedness. Our lives would be tough and cruel; death would be frightening, and after death only the yawning abyss of hell, "a land of darkness, as darkness itself . . . where the light is as darkness" (Job 10:22).
Sounding very much like Saint Paul, venerable Thomas a Kempis wrote: "For I feel in my flesh the law of sin, contradicting the law of my mind, and bringing me into captivity to the obedience of sensuality . . . nor can I resist its passions, unless Your most holy grace assist me, fervently poured into my heart. . . . . O how entirely necessary is Your grace to me, O Lord, for a good beginning, for progress, and for bringing to perfection." (The Imitation of Christ, Chapter LV). Peter Lombard similarly explained, "A man's will is prepared and anticipated by God's grace, to will the good, and is helped, lest it will in vain. . . . Grace goes before the merit of a good will, and a good will is itself a follower of grace, not previous" (Sentences, Book II, Distinction 26, Chapter 2).
Consider the generosity of God! The Lord, though we are treacherous, delivers us from sin and inspires us to goodness, guiding our steps while energizing and purifying our wills: "But God, who is rich in mercy, for His great love wherewith He loved us, even when we were dead in sins, has quickened us together with Christ (by grace you are saved); and has raised us up together, and made us sit together in heavenly places in Christ Jesus:that in the ages to come He might show the exceeding riches of His grace in His kindness toward us through Christ Jesus.For by grace are you saved through faith; and that not of yourselves: it is the gift of God:not of works, lest any man should boast.For we are His workmanship, created in Christ Jesus unto good works, which God has before ordained that we should walk in them" (Ephesians 2:4-10).
It is important to remember that man is not essentially evil. Indeed, as a creature of the perfect and holy Creator, he is fundamentally good. The fall made that which was natural unnatural, and that which was unnatural natural. Thus it seems to man that self-serving wickedness is his true disposition, when in reality harmonious communion, after the likeness of the Trinity, reflects genuine humanity.
Regenerated from on high, man's will bends Godward, as a plant in an open field grows steadily sunward. Saint Augustine wrote: "It follows, then, that the victory in which sin is vanquished is nothing else than the gift of God, who in this contest helps free will. . . . Neither was it the grace of God alone, nor was it he himself alone, but it was the grace of God with him. For his call, however, from heaven and his conversion by that great and most effectual call, God's grace was alone" (A Treatise on Grace and Free Will, Chapters 8 and 12).
Though we worship the Lord every minute of every hour, with every breath and heart-pound, still we show insufficient thanks for the grace He sheds constantly upon our hearts. Each one of us is Lazarus, brought from death to life by the sweet labor of Divine love. "For as the Father raises up the dead, and quickens them; even so the Son quickens whom He will" (John 5:21). The enigma of election resides at the intersection of two other troubling mysteries: the mystery of human freedom and the mystery of Divine providence. Who can solve this puzzle, which teases to madness the finite human mind?
Anyway, who are we to question the Eternal Spirit in whom "we live, and move, and have our being" (Acts 17:28). The Apostle rightly decried such impious probings: "You will say then unto me, Why does He yet find fault? For who has resisted His will? Nay but, O man, who are you that replies against God? Shall the thing formed say to Him that formed it, Why have You made me thus? Has not the Potter power over the clay, of the same lump to make one vessel unto honor, and another unto dishonor? What if God, willing to show His wrath, and to make His power known, endured with much longsuffering the vessels of wrath fitted to destruction: And that He might make known the riches of His glory on the vessels of mercy, which He had afore prepared unto glory" (Romans 9:19-24).
The man who does not tremble before these words is the man without righteous fear of the Lord, which is the beginning of wisdom (cf. Psalm 111:10; Proverbs 9:10). Many chafe against Divine providence, unable to discern that true freedom is always found in bondage to Christ, whereas false freedom is always found in bondage to self and Satan. Either way, bondage and freedom are but two sides of the same coin. What matters is who holds the coin: the Good One or the evil one.
Thankfully, even the most powerful transgressor angels submit to the sovereignty of the Most High. Thus Saint Cyprian declared: "For who resists God, that He may not do what He wills? But since we are hindered by the Devil from obeying with our thoughts and deeds God's will in all things, we pray and ask that God's will may be done in us; and that it may be done in us we have need of God's good will . . . since no one is strong in his own strength, but he is safe by the grace and mercy of God" (On the Lord's Prayer, Section XIV).
"So then it is not of him that wills, nor of him that runs, but of God that shows mercy" (Romans 9:16). This is the glad song to which rally all true worshippers of the Triune One. We know from Thomas a Kempis that "the proper gift of the elect is grace (that is, love) and they who bear the mark thereof are held worthy of everlasting life (The Imitation of Christ, Chapter LV). As the days grow cold and short, let us wear the mark of love boldly, that it may kindle every soul we meet!
In this Advent season, we fast so as to grow hungry, that our bodies may know the pain of our withered souls, which long for the meat of God's grace. When Christmas comes, as soon it will, let us remain wary of the day's true significance. By the incarnation of the Word, we learn simultaneously the lowliness of man, who seeks his own good, and the loftiness of God, who seeks the other's good, always and forever.
"Let this mind be in you, which was also in Christ Jesus:Who, being in the form of God, thought it not robbery to be equal with God:But made Himself of no reputation, and took upon Him the form of a servant, and was made in the likeness of men:And being found in fashion as a man, He humbled Himself, and became obedient unto death, even the death of the cross.Wherefore God also has highly exalted Him, and given Him a name which is above every name:That at the name of Jesus every knee should bow, of things in heaven, and things in earth, and things under the earth;And that every tongue should confess that Jesus Christ is Lord, to the glory of God the Father. Wherefore, my beloved, as you have always obeyed, not as in my presence only, but now much more in my absence, work out your own salvation with fear and trembling.For it is God which works in you both to will and to do of His good pleasure" (Philippians 2:5-13).