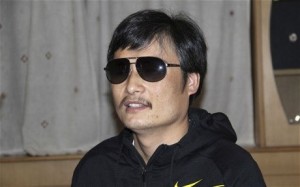 One man is forcing Hillary Clinton to pay attention to abuses against women.
The woman who famously said in Beijing in 1995 that "women's rights are human rights" has been excruciatingly silent since she's come into power about one of the worst abuses against women. Mrs. Clinton's first trip to China as U.S. Secretary of State in 2009 was marked by her deliberate decision not to address human rights.  Chief among the abuses is forced abortions of women who want their child.
"Chinese delighted after Hillary Clinton avoids human rights criticism," blared the London Telegraph summarizing Hillary's visit. As she said before her trip, "Our pressing on those issues can't interfere on the global economic crisis, the global climate change crisis and the security crisis."
Now, blind attorney Chen Guangcheng has thrown the issue right into her lap. Days before Hillary and U.S. Secretary of Treasury Tim Geitner will be in China for high-level finance meetings, Chen escaped house arrest. He is reportedly in U.S. protection in Beijing.
A self-taught lawyer, Chen became internationally famous for exposing forced abortions and sterilizations of rural Chinese women. Family planning officials brutally beat him, jailed him for four years and then imprisoned him in his home without charges.
Chen's daring night escape couldn't come at a more opportune time. The Obama administration and Chinese government are now in crisis mode to deal with the situation prior to this week's meetings.
Chen is not seeking asylum. He would like stay in China as a free man and to guarantee the safety of his wife and two children. This weekend a video appeared on YouTube of Chen calling on China's premier Wen Jiabao to address abuses committed by local officials. Are the local officials acting on Party orders, he asks, or on their own? Either way, China's premier must end it.
The Chinese officials' mistreatment of Chen grabs most of the attention. But this international crisis finds its roots in China's brutal one-child policy. Abuses by local officials were first against women and their families who wanted a child, then against him for exposing the gruesome deeds.
The population policies that local officials were enforcing came from above. However, an honest look at who is responsible will be very uncomfortable for Hillary and President Obama.
Investigations of population control policies that lead to forced abortions and sterilizations reveal the heavy hand of Western internationalists. Groups like UNFPA coordinate, justify and fund the people who commit wide-spread abuses.
One of Obama's first acts as president was renewing funding for UNFPA. The UN population agency had been cut off from federal funding by the Bush administration because UNFPA is involved in China's brutal one-child policy, even commending it as a "model" for other countries.
Both the U.S. and China claim Chen's case will not overshadow the official meeting this week. Yet some observers believe this may be the most significant challenge to US-China relations since China's crackdown on student protesters in Tiananmen Square in 1989.
Challenging the Chinese government over human rights abuses, Chen's brave actions have put the Obama administration in the hot seat. UNFPA and other population advocates should also feel the heat.