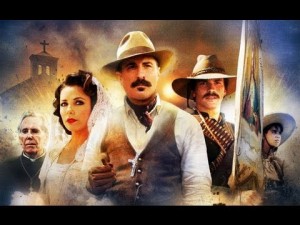 I'm doing something I've never done before. I've never written a movie review for a movie I have not yet seen or a book review for book I have not yet read. But I am so excited by the "buzz" about an upcoming movie that I thought I'd let you in on some of it.
For Greater Glory will be released one month from today on June 1, 2012. When I first heard about this film, I didn't give it a great deal of thought, considering how disappointed I was with There Be Dragons, the movie about St. Josemaria Escriva. But those who have been following this film more closely than I have good things to say about this attempt at telling a true story of faith under attack.
For Greater Glory tells the story of Mexico's Cristero War, the conflict for religious freedom that rocked North America in the 1920s. Many who have seen the film in exclusive pre-release screenings have been surprised by an intense, inspirational story of faith, family, and martyrdom that has remained obscure when compared to other historical conflicts of religious liberty.
One of the reasons this movie is generating good pre-release press is that its cast is full of well-known stars, stars who would be unlikely to sign on to a "B" movie at this point in their careers. The cast includes protagonist General Enrique Gorostieta, played by Oscar® nominee Andy Garcia (Ocean's Eleven). His wife, Tulita, is played by like Eva Longoria. Other notable stars include Peter O' Toole as Father Christopher and Eduardo Verástegui, as Blessed Anacleto (who many Catholics will remember from his debut in the pro-life movie, Bella).
Another reason I am stepping out on a limb for this film is that, in my opinion, the timing is perfect. Consider that our bishops recently called on us to pray, fast and fight for our own religious freedom here in the U.S.A, I'd say the timing of this movie is not a coincidence but rather, a "God-incidence". I hope this movie gets people who may still think the notorious HHS mandate is not a big deal, seriously thinking about what a slippery slope the loss of religious freedom is!
As part of this movie's pre-release activities, relics of six Knights of Columbus who were martyred during the Cristero War began a five-city U.S. tour in Houston on April 28. The relics also will be taken to Phoenix, Tucson, Los Angeles and San Antonio. The Knight martyrs represented include Saints and Fathers Miguel de la Mora, Jose Maria Robles Hurtado, Luis Batiz Sainz, Rodrigo Aguilar Aleman, and Mateo Correa Magallanes. I sure wish the relics were going to be on tour here in the Midwest because I would make a point of going to see them and pray near them. It would be a fantastic teaching opportunity to take your children to view the relics of these saints and then to take your older children to see the movie! Faith, martyrdom, and saints coming to life on the silver screen, with relics to boot? What serious Catholic would want to miss this?
Supreme Knight Carl Anderson said in a recent statement, "It is our hope that the pilgrimage of these relics will remind us all of the sacrifices made on behalf of religious liberty on this continent less than 100 years ago. It is a timely reminder that – from Ancient Rome to 1920s Mexico to today – persecution does not stifle the faith, but emboldens it."
Blessed Pope John Paul II canonized the priests and 20 others in 2000, and he beatified another group of Cristero martyrs in 2005. The latter group includes two of the film's central characters – Blessed Jose Sanchez del Rio and Blessed Anacleto Gonzalez Flores.
Seán Cardinal O'Malley, Archbishop of Boston, recently blogged about the film and posted the trailer. "This was a very tragic time in the history of the Church in Mexico," he said. "Thousands were killed during the persecutions, and many places were left completely without priests. … I wholeheartedly recommend [For Greater Glory].
Teenager Mauricio Kuri, who plays Blessed Jose in For Greater Glory, wondered recently about why the story of martyrdom remains largely unknown. "Why don't people know about him?" he asked regarding Blessed Jose. "The world needs to know about him and his story. We know about the persecution (by) the Nazis, the Chinese and in Cuba, but we don't know about this," he said of the Cristero War. "The movie is a good opportunity to learn about this."
"We're not proud of this," cast member Eduardo Verástegui, a Mexican native, said of the Cristero War. Verástegui plays Blessed Anacleto in the film. "It's a wound that we've buried. I felt we should bring this wound out, learn from it, and show some of the heroes of Mexico who gave their lives for what they believed."
So mark your calendars, plan to flood the movie theaters on opening weekend, and then be inspired to fight our fight for religious freedom right here in our homeland of the United States of America!
Watch for your local listings of place and time of For Greater Glory and learn more about it on the movie's website: http://www.forgreaterglory.com