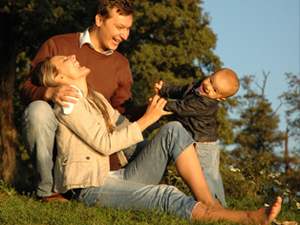 The cohesion of the American family is about the worst in the world, according to a new UN report. Rather than recommending policies reinforcing traditional family roles, the study recommends social policies reflecting the new reality. 
Just 70 percent of American children grow up with both parents, worse than the developed world average of 84 percent.  Only Estonian children fare worse. And American marriages fail more than anywhere else except Latvia, the report says. 
At the same time, many men around the world desire more children than they have. American men generally desired 2.3 children in 1991 (the last year data was shown), while the U.S. fertility rate was only 1.85. In an example from the developing world, the report finds that men in Benin wanted on average 6 children in 2000, while data from the UN Population Division show that the fertility rate was only 5.79. 
This evidence seems to contradict the idea of an "unmet need for family planning" upon which UN agencies base the need for voluntary family planning programs.  The United States is the world's largest donor to international family planning and population programs. 
The report also finds that Chile and Ireland have the world's lowest rates of divorce. These countries also have the world's lowest maternal mortality rates, according to studies by several UN agencies. The new report does not explicitly correlate its data on intact marriages with better maternal health.  
In light of its data on the rising breakdown of marriage and family life, the report seeks policy changes that recognize and support the "evolving role of men in families" including changes to the labor market, family law, health and social services, education and the media. 
The report promotes the concept of "social fatherhood," which "encompasses the care and support of males for children who are not necessarily their biological offspring."
And it asserts that "the term 'family' encompasses a variety of traditional and non-traditional groupings, including heterosexual and homosexual partnerships, biological and social parents and children, polygamous and polygynous relationships, close friends, and other relatives."
Social conservatives have criticized such definitions as evidence of a glaring disconnect between data that indicate the need to strengthen fatherhood and the family on one hand, and attempts to change the definition of family by activists and some governments, mostly from Europe, on the other.   
"Men in Families and Family Policies in a Changing World," is part of a series of studies resulting from a General Assembly resolution on the Follow-up to the tenth anniversary of the International Year of the Family which called for supplementing government research to change social policies. 
Initial focus of the series was on achieving "equal sharing of domestic responsibilities," and subsequent reports focused on engaging men in family planning and reproductive health, and determining the parental roles in education of children. The report was funded by the United Nations Trust Fund on Family Activities.