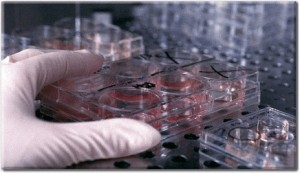 In 2009 two researchers filed a lawsuit claiming that new National Institutes of Health (NIH) guidelines easing restrictions on human embryonic stem cell (hESC) research are a violation the Dicky-Wicker Amendment, a budgetary amendment prohibiting federal tax dollars from being used to create or destroy human embryos for scientific research. In August 2010, district court judge Royce Lamberth agreed and temporarily blocked the NIH from using federal dollars to fund any hESC research. The U.S. Court of Appeals for the D.C. Circuit later overturned Lamberth's preliminary injunction, and he dismissed the case in July.
The plaintiffs filed an appeal last September and now, according to Science Mag's Science Insider, judges and dates have been set for that appeal.  Briefs are due between January and mid-March and the oral argument has been set for April 23 at 9:30 a.m. The judges — Chief Judge David Sentelle, appointed by Ronald Reagan; Karen LeCraft Henderson, appointed by George H. W. Bush and Janice Rogers Brown, appointed by George W. Bush — are considered rather conservative. In fact, justice Henderson was the lone dissenter on the ruling last April that favored the NIH. So, there is a good chance that the court could rule in the plaintiffs' favor.
The outcome of this lawsuit is significant because here in the United States there are absolutely no laws limiting any kind of research involving the creation, use and destruction of human embryos (including human and human/animal hybrid cloning). The only thing we have in terms of protecting human embryos from exploitation at the hands of researchers is the Dicky Amendment prohibiting the Federal Government from paying for such research.
In recent years, private investment into ESC research has been steadily declining for several reasons, not the least of which being the fact that it has failed to deliver the incredible results that its supporters have been promising. That's why ESC researchers have been lobbying heavily for expanded government funding for their research. And they've been getting lots of it!
Since Obama took office 434 million in taxpayer dollars has been spent on ESC research – $143 million in 2009, $165 million in 2010 and $126 million in 2011. That's nearly half a billion!
In 2010, Geron Corp., the first company to begin human trials on a treatment derived from hESCs, was awarded five cash grants totaling $1.2 million under the "Qualifying Therapeutic Discovery Project" included in Obamacare. Three of those grants were for ESC research and were valued at $735,000 altogether. Last November Geron shook up the scientific world when they announced that they were suspending their groundbreaking trials after a little over a year and abandoning embryo-destroying research entirely. One would think that this news would make the federal government a little reluctant to expand its funding of such controversial research, but just last month the NIH approved more hESC lines for taxpayer funding.
This has got to end. It's bad enough that, unlike other, more progressive countries the United States has no laws protecting the smallest of our species from being torn apart in the name of science, the least we can do is not force taxpayers – many of whom have serious moral and ethical objections to it – to foot the bill for such research.