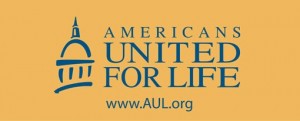 Americans United for Life (AUL) has released its seventh annual "Life List" — a ranking of all 50 states based on the way each deals with a comprehensive list of life issues — from abortion to euthanasia.  For the second time in three years, Louisiana tops the list, followed closely by Oklahoma, Pennsylvania, Nebraska, and Arkansas.
Washington, California, Hawaii, Vermont, and Montana come in as the least life-affirming states, while Arizona, Indiana, Kansas, North Carolina, and Utah rate as the "most improved." For the entire list, and a graphic model of the nation, click here.
AUL CEO and President Dr. Charmaine Yoest said that the remarkable gains for Life at the state level reveal that many state legislators are creating a blueprint for legislative changes when Roe v. Wade is ultimately overturned. 2011 was a watershed year in the defense of life.  Forty-seven states considered more than 460 abortion-related measures, ultimately enacting more than 70 of them. And that is just the beginning.
AUL's Life List is a part of Defending Life 2012. An annual resource produced by AUL, Defending Life provides the necessary building blocks for a culture that respects and protects life and for laws that reflect and further this desired cultural imperative.  As this one-of-a-kind legal guide shows, we are making significant progress —- state by state and law by law –- to protect women and the unborn from the harms inherent in abortion; to curb and eliminate unethical and life-debasing uses of biotechnology; to combat efforts to encourage and legalize euthanasia and physician-assisted suicide; and to protect the freedom of conscience of America's health care providers.
In evaluating and ranking the 50 states, AUL looked at laws in five primary areas:
Laws related to abortion including informed consent, parental involvement, abortion clinic regulations, limitations on funding for abortion, and support of abortion alternatives.
Laws that protect unborn victims of violence.
Laws related to biotechnologies including human cloning, stem-cell research, uses of prenatal and genetic testing, and assisted reproductive technologies such as in vitro fertilization.
Laws impacting the end of life.
Laws protecting the freedom of conscience of health care providers, institutions, and payers.
In our analysis, we look beyond the mere existence of a law to the actual substance and practical effect of the law.  Using this state-specific information and taking into account the unique political realities of each state, we have also identified key opportunities for each state in 2011 and beyond.
For more information view a the "Top 10" Talking Points for this year's Life List as well as a list of previous rankings.