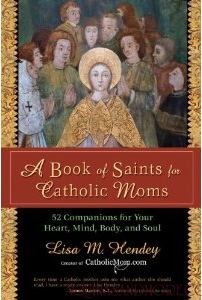 There are many wonderful books about Catholic saints available. Most of you probably own some of them. Perhaps you even have some collecting dust in your home. They looked so interesting, but you never found the time to read them. So, why should you purchase another one? Because in the new A Book of Saints for Catholic Moms, Lisa Hendey has put together a very inspiring, practical guide to the saints designed especially for Catholic mothers.
Hendey, the founder of CatholicMom.com, wrote this book as the follow-up to her bestselling The Handbook for Catholic Moms. In that book, she focused on the "importance of nurturing ourselves as moms in four components of our lives: heart, mind, body, and soul." In this resource, she has profiled 52 saints and highlighted which of those four components they speak to in our lives. This book can be used on a week by week basis with the focus being on one saint per week, or one may simply wish to focus on a saint that speaks to whatever area of one's life is in need of a little extra help at the moment.
For each saint, Hendey offers a variety of topics: a brief biographical sketch, reflections on lessons learned from the saint, popular traditions associated with him or her, a quote from the saint, a week's worth of Scripture verses that are associated with the spirit of that holy person, activities to do either alone or with your children, a prayer asking for the saint's intercession, and questions to ponder throughout the week. Of course, one is under no obligation to do or reflect on all of that information, but it is good to have options. Each person reading this book will find something that appeals to her and her preferred way of learning and praying.
The variety of saints that Hendey profiles should also be noted. Beginning with our Blessed Mother, "the first and best Catholic mom," she includes many of the well-known saints you may already know and love, such as Teresa of Avila, Sebastian, Maria Goretti, Patrick, Martha of Bethany, John Paul II, and Mother Teresa of Calcutta. But, she does seem to have made a concerted effort to focus on saints that are less well-known. It is possible that readers may find some new friends in the communion saints as they read and reflect on individuals such as Josephine Bakhita, Isidore of Seville, Louis and Marie-Azelie Martin, Chiara "Luce" Badano, and André Bessette.
In A Book of Saints for Catholic Moms, Lisa Hendey has compiled and created a very useful and inspirational book. It can be used alone, with your family, or as part of a Catholic women's book club. No matter how it is used, your life will be enriched as a result.