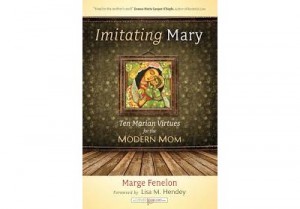 What can mothers today learn from a poor Jewish woman who lived two thousand years ago? If the woman in question is Our Blessed Mother, the answer is everything. Marge Fenelon explores ten of these lessons in the new book, Imitating Mary: Ten Marian Virtues for the Modern Mom (Ave Maria Press, 2013). Fenelon writes Mary is "the answer for all moms . . . with God's grace and Mary's example, we can overcome any obstacles to becoming the loving, wonderful mothers we're meant to be."
Fenelon focuses on ten scriptural events from Mary's life and explores the virtues Mary exhibited in each of those instances.  We can all learn from Mary's patience as she waited for Joseph to make a decision about their marriage, her trust as God's handmaiden, her obedience in God in all things, her endurance as she gave birth in a stable, her courage, her hope, her faith, and her joy.
Fenelon writes in a friendly, conversational style. She has an intimate relationship with Mary and this is evident in her words. As a mother with grown children, she understands all the stages of mothering. She shares experiences from her own life and her hard-earned wisdom with all of us in the trenches. She knows the challenges of modern mothering and how we often struggle with self-doubt. She wants to encourage mothers in their vocation:
"You're a better mother than you think you are. Mothers have an innate tendency toward self-criticism. . . We also like to compare ourselves to other mothers, and that only makes things worse. You can't be that other mom; you can only be you and you are beautiful – inside and out! Take time every single day to acknowledge something good about yourself."
Each chapter of Imitating Mary features a relevant excerpt from scripture, Fenelon's reflections, thoughts to ponder, and questions to consider. This book would be wonderful to use in a mom's book group or Bible study. There is so much each of us can learn from Mary's example.