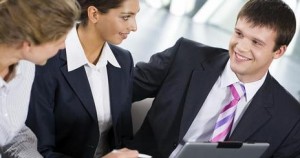 So here you are: Catholic, on top of the world, and loving everything about life. You naturally want to share the Good News with those you know, like your colleagues in the workplace. After all, having abundant life in Jesus Christ in the Catholic Church is pretty much the best thing ever!
But often times we hear from the culture that Catholics and other Christians come off as pushy, annoying, and extremist.
While this may be true in a small number of cases, the majority of us are socially normal people.
Acting socially acceptable, however, does not exempt us from sharing the Gospel. In fact, it's one of the few things we're actually commanded to do: "Go therefore and make disciples of all nations, baptizing them in the name of the Father and of the Son and of the Holy Spirit" [Matthew 28.19]
There are ways to share the Gospel without being pushy, annoying and extremist. The goal is to create opportunities to share the cause of your joy: the person of Jesus Christ.
The best way to do this is to "make a friend, be a friend, and bring a friend to Christ."
Try these four "Non-Churchy" tips to open up opportunities for evangelization.
1. Be The Most Joyful, Peaceful Person In the Workplace
People are attracted to others who are joyful.
The good news is that you can be the most joyful person in the workplace without being annoying. Smile more. Be positive. Put on the mind of Christ and see situations with the eyes of faith.
This doesn't mean you have to be naive either. Bad things happen, like suffering. But for those who see with the eyes of faith and know the Church's teaching, we know that suffering can be used for God's greater glory.
Print out the Psalm "The joy of the Lord is my strength" and put it next to your computer at work to remind you often of how you are to be disposed internally. Before long, people will take notice and ask you why you are so joyful.
2. Bend Over Backwards For Others
It can become so cliche or trite sometimes, but it is still a direct command from Jesus: "A new commandment I give to you, that you love one another; even as I have loved you, that you also love one another." [John 13.34]
How many of us can say that we love our colleagues as Jesus loves us?
One word that you can use to reflect on this is unreasonable. What Jesus did for us on the cross was beyond reason: a total crucifixion of self for the sake of the other. Not only should we do the same for our friends, we're commanded to.
3. Develop Relationships That Matter
I'm going to confine this point to men for just a second, to get my point across.
Many men in the culture don't have real friends. Let me explain. Often times, a friendship between two men can be summed up as, "Great game on Sunday!"
If the conversation never goes beyond Sunday's game, you do not have a real friendship.
And yet, men are hungry for friends. They are human beings with goals, desires, and struggles. They are people who are made for friendship.
My point is this: be intentional about developing actual friendships, not just trivial ones. Every single human being, while unique to be sure, has the same wants, desires, and goals. Authentic relationships and friendships are two of those.
4. Encourage People To Strive For Greatness
It is in the human spirit to want to be great. You can see it in sports, literature, and art. We're all striving for greatness of some sort or another.
Holy Mother Church teaches us the same thing:
Do you not know that in a race all the runners compete, but only one receives the prize? So run that you may obtain it. [1 Corinthians 9.24]
By encouraging excellence, others will be attracted to you and wonder who or what is your inspiration.
This article originally appeared at Ignitum Today.