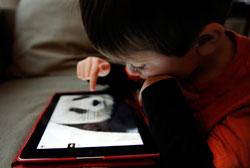 As much as I don't like to think about it now, my 2-year-old daughter will not always desire to spend every waking minute with her mom. She prefers to engage with me now, but I know that the television, computer, phone and movies will grab her attention as she gets older. So I strive to maximize the amount of interaction with her each day.
Sayings like, "They grow up so fast," "Enjoy every minute," and, "You'll miss these days," are common because they're true. Children are little sponges, absorbing and processing information about their world each day. It is critical to minimize the distractions of technology that fight for both their attention and our attention, and to encourage open lines of communication at a young age.
It's a shame that some families have TV screens in their cars or SUVs that distract kids and limit interaction. Drive time can be an ideal setting to converse with our children, regardless of their ages. I'm never at a loss for teachable moments, games to play, stories to share, memories to reflect upon, prayers to be said and opportunities to learn about my toddler when she's strapped in her car seat.
As tempting as turning on the radio for the entire car ride may be (not that we can't also have fun belting out some catchy tunes or kid-friendly rhymes from time to time!), I make a conscientious effort to engage with my daughter on our drives together. I pray that she continues to desire to tell me stories, share what she knows, and point out interesting things she sees along the drive, hopefully throughout her childhood and teen years.
Meal times are also better when free of technological distractions. The table provides an opportunity for wonderful, spontaneous conversations and bonding! But these precious times when families sit down together and share can be ruined by phone calls, text messages, laptops or television, which dilute the dynamic and depth of conversation. True, there are times when turning the cell phone on silent or keeping it packed away isn't prudent or possible. Yet the effort should be made to fully engage with those around the table.
Choosing to focus on my family first, showing them that they're more important than any piece of technology or social media, requires me regularly and knowingly to tune out distractions. Early in my marriage, when I was working from home, my husband told me that I would often not look up from my computer to welcome him home from work. I was unaware of how much my inconsiderate absorption made him feel.
I have since resolved that whenever he comes home, I drop what I'm doing and greet him. When I forget, my daughter reminds me by immediately rushing to the door, calling out and lifting her hands up for a big hug as soon as she hears her daddy's keys in the lock.
It's hard to remember what the world was like before social media, camera phones and internet. These tools enable us to stay better connected, transmit and receive information instantaneously, even evangelize and grow in our faith like never before. But whether removing ear buds during a walk with our kids, making it a point to stay away from Facebook while the little ones are awake or silencing your cell phone while playing at the park, it is important to build technology boundaries in our lives. Doing so allows us to better give our loved ones what they deserve in abundance – our full time and focus.