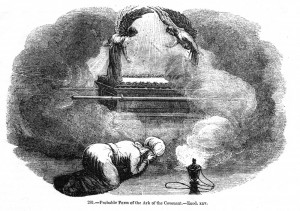 In his Epistle to the Romans, Saint Paul writes:
Being justified freely by His grace through the redemption that is in Christ Jesus, Whom God Himself hath set forth to be an expiation through faith in His blood.
3:24-25
This word, translated as "expiation" by the Orthodox New Testament, is in Greek hilasterion. The usage and meaning of this word is critical in understanding the meaning behind the sacrificial death and resurrection of Jesus Christ.
In the Septuagint, the word hilasterion is always used in the sense of expiation or "cleansing," being a translation of the Hebrew word ????? (kaporet). These words (hilasterion and kaporet) are both used in the Masoretic revision of the Old Testament, as well as the Septuagint, for what we call the "mercy seat" in English. Kaporet is possibly derived from the word kaphar or "to wipe out," making kaporet to mean "thing of wiping out" or "thing of cleansing" (cf. Cheyne & Black, Encyclopedia Biblica).
Things really get interesting when you look at the New Testament in more detail, and especially modern translations in English.
Hilasterion is used throughout the New Testament, and especially in both Romans and Hebrews. While most modern English translations will rightly translate hilasterion as "mercy seat" in the Epistle to the Hebrews, they will inconsistently translate it as "propitiate" elsewhere. It would seem that there is an apparent bias at play in these translation decisions.
Viewing the mercy seat as a "thing of cleansing," along with how that relates to both the death and resurrection of Jesus Christ, would seem to be most apparent to the apostle:
For if the blood of bulls and of goats and ashes of a heifer, sprinkling those who have been defiled, sanctifieth to the purity of the flesh, how much more shall the blood of the Christ, Who through the eternal Spirit offered Himself without blemish to God, purify your conscience from dead works in order to worship the living God? … but now, once for all, at the consummation of the ages, He hath been manifested for the setting at naught of sin by the sacrifice of Himself.
Epistle to the Hebrews, 9:13-14, 26
Just as the mercy seat was a place for yearly (i.e. Yom Kippur) cleansing from sins — literally "putting them away" or their "setting at naught" as the Orthodox New Testament translates Paul's words above — so too Christ is presented as our mercy seat and in whom we have our sins "put away" and our souls healed from the death and corruption that sin brings. This is not a matter of "appeasing" an angry, vengeful God, and the concept of propitiation is more Zeus than historically Christian.
We are united with Christ in the mysteries of the Church so that we can be cleansed from sin, have our souls and bodies healed, and become truly human — to become what we were meant to be, in Christ. Jesus offered himself so that we could have an intimate union with God the Father. We do not offer Christ to God the Father as a propitiatory sacrifice; Christ offered Himself for us, out of the infinite love of the Father for sinful humanity. For if God were filled with wrath for humanity, it would make no sense to send Christ into the world to die for us — "while we were yet sinners."