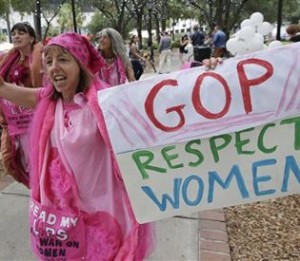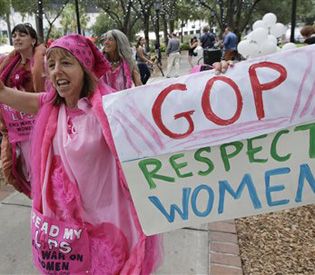 A costume party at the GOP convention?
Among those protesting this week at the Republican National Convention, representatives from the radical feminist group CodePink are making a strong statement for women (or is that "womyn"?) by dressing up as vaginas to oppose what they're calling the Republican "war on women."
Talk about a powerful statement. They aren't just using the word vagina, as feminists love to do because they think conservative men are made uncomfortable by the anatomically correct term.
They're going to great lengths to create a visual jolt. They're even using feather boas. It's shocking.
Except that it's not, because CodePink is about as far left as a group can go without traveling back to the '60s. Billing itself as an anti-war, social justice advocacy organization, the group has an agenda that essentially is the platform of the Socialist Party USA. It was founded in 2004 to protest the war in Iraq and has expanded its focus since then to become the Barbie of the Occupy movement. (Its members love pink.)
To declare CodePink predictable is to state the obvious.
But as you might imagine, being an organization founded and made up mostly of women, CodePink has a special mission to rally around so-called "gender and reproductive rights" issues. Thus its call to "bring your vagina to the RNC."
Members even recorded a song and posted it on YouTube:
If you're tired of legislators pushing you to second class/Gather up your outrage and get up off your ass/End the War on Women, take this opportunity/Take your vagina to the RNC.
And the chorus:
Take your vagina to the RNC!/Let's start behaving like a true majority/Show these guys that power/Isn't in the way you pee/Take your vagina to the RNC.
These CodePinkers are representative of the gals responsible for promoting the faux "war on women" meme. This tired strategy declares that OWRMs (old white Republican men) are out to abolish women's sexual freedom by continuing to make them buy their own birth-control pills rather than force the nation to pay for them via our federal taxes. Abortion on demand? That's a given.
Also, at least according to the "Bring Your Vagina" song lyrics, Republicans also are a threat to women's "freedom to be queer." It's all part of the narrative that proclaims, "Republicans want to legislate your sex life." This belief consumes leftists, especially those who major in women's studies.
I think it's a safe bet that Republicans don't give a hoot if these gals are queer — or if they dress up as vaginas or ovaries or breasts, for that matter. The sex-obsessed "war on women" is in the vivid imaginations of radical feminists (who, by the way, had a man make many of their vagina costumes). Really, feminists?)
If there is a "war" on American women, it is President Obama's war, and it is economic.
Since our current president's tenure began, unemployment for women has gone from 7 percent to 8.1 percent, and that number is even worse for young women, according to the Bureau of Labor Statistics as of earlier this month. Unemployment for women between the ages of 20 and 24 has increased from 10.3 percent to 11.7 percent.
A note to the people in the vagina suits: Young women would rather have jobs than free birth-control pills.
After 3½ years of waiting for things to turn around, women who are actually living with the impact of this Obama presidency would like to dress up, too.
But they wouldn't be caught dead in a vagina costume. They'd much prefer a nice outfit and the chance to celebrate a return to prosperity and security for themselves and their families.