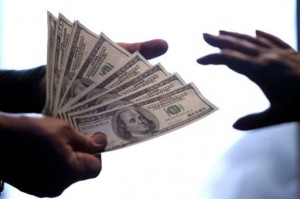 Scandal is developing around an American woman living in Ireland who claims to be a Catholic mystic but hides her true identity, misleads people, takes in millions of dollars and is protected by influential people.
For the past several years, Kathryn Ann Clarke, going under the name of "Anne a lay apostle" has been travelling around the world to promote alleged messages from heaven she claims to receive in the form of locutions (i.e. hearing interior voices supposedly from heaven).[i]  She established a non-profit organization entitled "Direction For Our Times" (DFOT) to spread her "messages."
In her travels, Kathryn gained the support of many popular and respected Catholic figures, including her Bishop, Leo O'Reilly of the Diocese of Kilmore, and popular spiritual writers Sr. Briege McKenna and Fr. Kevin Scallon.
For nearly seven years Sr. McKenna and Fr. Scallon promoted Kathryn around the world.  Surprisingly, these two writers publicly pulled their support in August, 2011.[ii]  Neither McKenna nor Scallon have fully explained why and they have not issued any further public comment.  However, a look at public DFOT records and other documents might offer some insight.
According to the Illinois Charitable Organization Annual Report for the year 2010, Kathryn Clarke makes over $60,000 per year.[iii]  The Annual Report shows Kathryn has an executive team with some members that are paid between $49-70,000.  Her spiritual director/chaplain, Fr. Darragh Connolly, received $33,000 in 2009 for his services.  These monies are given despite Catholic Church doctrine against profiting from alleged heavenly messages.[iv]
In response to the monies Kathryn is "compensated," Fr. Connolly stated in March 2012 to the Anglo-Celt that, "Anne does not profit from the Word of God no more than anyone who works in the Church."  He proceeded to distinguish between Kathryn's writings and administrative work, saying, "It was decided by the board that Anne should be compensated for her tireless leadership and administrative work for this international apostolate. Anne receives no compensation for the writing of books nor any royalties from the sale of these books."[v]
According to official Irish business records, the list of DFOT Ireland board of directors was formally established in 2007 and was changed in 2010.[vi]  The Illinois Annual Reports show another board for the DFOT-USA organization and a few names cross over between the two records.  Connolly did not specify to the Anglo-Celt which board (or in what country and year) voted to "compensate" Kathryn.
Moreover, DFOT states on its web site, "[DFOT] was created to focus specifically on the mission of spreading the messages revealed to Anne, a lay apostle."[vii]  The consistency of this focus with the monies Kathryn receives for her work to spread "messages" she wrote was not addressed by Connolly, nor the fact many of Kathryn's family and friends are on her payroll.[viii]
Aside from possible nepotism/cronyism, Kathryn Clarke lives a double life—one as Anne the "locutionist" and the other as Kathryn Clarke, writer and domestic violence prevention advocate.
In 2002, Kathryn Clarke gave a $400 campaign contribution to her Lutheran friend and co-worker Karla Fiaoni.[ix]  At the time, Kathryn was receiving her alleged locutions and Fiaoni was running for a judicial position in the State of Illinois with pro-choice views.[x]  In a 2010 election for another judicial position, Fiaoni was endorsed by the Lesbian and Gay Bar Association.[xi]  This endorsement came while Fiaoni worked as Secretary to DFOT and after her conversion to Catholicism in 2006 after reading Kathryn's writings as "Anne."[xii]
Kathryn herself appears to endorse same-sex relationships while paying lip-service to Catholic Church teaching.
In 2004, Kathryn published a novel entitled, "The Breakable Vow" with HarperCollins Publishers.  Accompanying the book was a curriculum that positively discusses same-sex relationships and sexual activity outside of marriage.[xiii]  This is in direct contradiction to Catholic Church teaching and which Kathryn—as Anne—claims to support.  The Breakable Vow is still available for sale, giving Kathryn further financial revenues in addition to those stated above.
Previous attempts to question Kathryn's claims and her apparent double life have been rebuffed by Kathryn and her close associates.[xiv]
Between 2007 and 2008, Fr. Darragh Connolly stated that he and Bishop O'Reilly are "fully aware" of certain questions surrounding Kathryn.  He characterized the questions as "malicious and completely unfounded" and more recently to the Anglo-Celt as "tripe and trash."[xv]  Theologian Dr. Mark Miravalle dismissed further questions that arose after Sr. Briege and Fr. Scallon publicly withdrew their support of Anne, and claimed Kathryn's writings come from God.[xvi]  In 2008, Kathryn herself characterized the questions surrounding her as an issue of her "not being holy enough."[xvii]
Meanwhile, DFOT solicited tens of thousands of dollars from its "lay apostles" to purchase Holy Trinity Abbey in Kilnacrott, Ireland.[xviii]  DFOT claims Jesus wanted the Abbey in order to bring healing to people after one of the Abbey's deceased members, Fr. Brendan Smyth, abused many children.[xix]  Monies for the purchase of the Abbey were given despite the fact that the 2010 Illinois Annual Report indicates a less-than-satisfactory DFOT oversight of its finances.[xx]
Unfazed by the mounting questions about its oracle, DFOT continues with its self-styled "rescue mission." Citing the authority of Bishop O'Reilly and a commission established in 2009 to examine Kathryn's claims, Fr. Connolly stated DFOT is not obligated to give a response.[xxi]
*Editors Note 01/13/2015* please see a Spanish translation here.
---