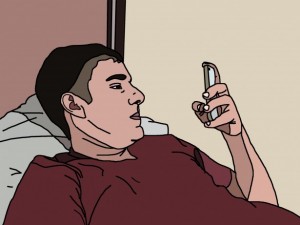 "Was daddy involved with us when we were little?" she asked. "Did he want to spend time with us?" I wondered why she was soliciting these questions although I guessed it had more to do with the fathers of the families that she worked for than her own father. As a young adult woman who makes her living as a nanny, she has had the opportunity to live in the homes of parents and observe firsthand how they interact, or don't, with their children.
Great memories of her father playing with her and her siblings, coaching, going to mass, and generally assisting in the parenting role whirl in her head. Specifically she queried about his motivation to be involved. Did he want to, or did I make him? I assured her that he was a dad who loved to be there for his children and still does.
What she has experienced through her job, however, is different with parents today. Technology has become the ultimate distraction. When parents come home their children are naturally anxious to see them, but too often find themselves competing for their parents' attention. Unwilling to set aside their devices for long, if at all, sends a clear message to the children that they are less important.
Sadly it seems children are getting pretty used to being rejected while their parent or parents actively engage their electronic devices and have little or no time focused on them. In fact, it is not uncommon to see whole families absorbed in their personal devices and not communicating at all with each other. Perhaps they learned at an early age that they are no competition or uninteresting compared to the device in hand. We've all seen it. Perhaps we have all done it.
Is it time to put boundaries on technology use for the good of the family?
Meeting with couples preparing for marriage I hear about the frustration with technology's insatiable imposition into the relationship. One man complained that his fiancée was more interested in recording their date on Instagram than actually giving her full attention to him. Her response was his gaming pastime which averaged almost thirty hours a week. Others have complained about laptops in the bed, or texts at all hours of the night.
Are we really meant to be slaves to new technology and to be distracted to the exclusion of real human beings in our midst? Is the fleeting childhood of our children playing second fiddle to surfing the net, fantasy football, or social media?
Fathers play the most important role in the faith life of the family and the well-being of their sons and daughters. No, I'm not joking. It's dads. Children grow up faster than ever and nothing is more important than the lives you brought into the world. Not gaming, TV, or even work.
Men need to show their children they matter. Spend device-free time with them; they are the most important gadget God has ever entrusted to you. When I was a youth minister I saw firsthand the brokenness and fragility of teens who did not have fathers present in their lives. Fathers divorced their mothers and went on to have other new families and these kids were left out of their lives. Don't do this dads. Don't forget any of the life you have brought into the world.
Sons and daughters need their fathers to show them, through their actions, a little peek at our Heavenly Father. God's goodness, generosity, kindness and love should flow through the hearts of dads towards their children and in doing so point right back to God the Father. Dads are irreplaceable!
Your involvement in their lives, even in the messiest and most challenging times, matters! Don't ever believe the lie that says it doesn't. Your kids will turn out better, stronger, more competent and confident, all because you cared more about them than some plastic apparatus with wires and RAM.
I love this quote from Sam Guzman of "The Catholic Gentleman." I offer it to all men but especially for fathers to ponder:
Holiness is for men. There is nothing more difficult, rewarding, or manly than becoming a saint. The spiritual life is full of combat, struggle, hardship, and adventure. It requires blood, sweat, tears, perseverance, and courage. It isn't for the faint of heart. Catholic men are called to leave mediocrity behind and to strive for greatness.
Thank you to all the fathers that make a difference day in and out. The fruit of your faithful, loving efforts is changing the world for good.
Happy Father's Day to my own father and to all men who have shown me, through their self-donation, the visible face of God. We need you and your witness to all men.