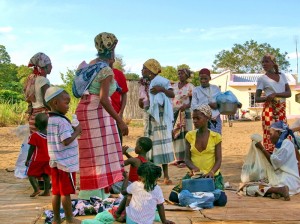 European leaders pressing President Obama to fund African abortions argue that a novel interpretation of laws governing war should trump US restrictions on abortion funding. To make their case, they are elevating the views of a few experts from a different body of law—human rights.
The Europeans recently criticized the US restrictions "in situations of armed conflict."  Norway led the charge, citing a report from a group led by long-time abortion advocate Janet Benshoof as evidence the US violated the Geneva Conventions, which govern conduct during war.
Left-leaning British parliamentarians meanwhile complained that American policies prevent Britons from complying with the same laws of war, as well as their own policies on abortion. US policy has worsened the pain and suffering of women who have been raped during wars in the Democratic Republic of the Congo, said British Baroness Glenys Kinnock in a recent editorial.  More than forty other liberal parliamentarians wrote the US president to criticize US policy. Kinnock and the other UK legislators claimed that the US guidelines prevent leading aid organizations from providing or even talking about abortions. Kinnock cited reports from abortion advocacy organizations as backing her claim.
In a touch of irony, even the British government denied the assertion, with the UK foreign aid agency saying US regulations – and even local country law – haven't stopped British funding of abortion services. "US regulations on the provision of abortion services have no influence on UK funding," the agency said in a written statement in response to a BBC program, adding that the British interpret the laws of war as allowing them to perform, and not just fund, abortions even where it is against the law. The Democratic Republic of Congo has highly protective abortion laws.
Leftist European politicians are in common cause with liberal Democrats in Washington seeking to bring down the US policy. Britain's Kinnock claimed solidarity with Democrats in the US Congress who have called for weakening interpretation of the law that put the funding into place–the 1973 Helms Amendment. The law says US aid may not fund abortion as a method of family planning overseas. The Congressmen, led by Lois Capps (D-CA), said aid agencies wrongly act as though there is a blanket prohibition for all abortion services even though a 1994 law eased restrictions to allow for abortion counseling where it is not against the law.
Four European parliamentarians from a working group on reproductive health demanded President Obama reverse the policy based upon views from the UN Human Rights committee that protective abortion laws are "cruel and inhuman." But that committee's views are so controversial that last year Peru rebuffed another of the committee's remarks that accused Peru of violating human rights agreements because its laws protect a disabled child from abortion. Peru not only said that the committee not only misinterpreted the treaty but overstepped its mandate in making such a claim.
Critics of US policy use both the 1949 Geneva Conventions, to which the US is party, and 1977 revisions, which the US never joined. They say the US is bound by the later revisions anyway, claiming that they establish international "custom" which binds all nations.
An article of the Geneva Conventions to which all parties agree says nations cannot "discriminate" in providing care for the wounded and cannot use "cruel and inhuman" treatment.  Louise Doswald-Beck, former head of the International Red Cross' legal division, says this means the US must provide abortions. To interpret US obligations, Doswald-Beck invoked a March 2013 statement by a UN special rapporteur on torture who said that laws protecting unborn life from abortion are cruel and inhuman.
She also cited a general recommendation from the committee that monitors compliance with the Convention on the Elimination of All Forms of Discrimination Against Women. That committee has argued that laws protecting the unborn discriminate against women since men cannot become pregnant.