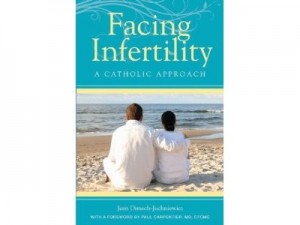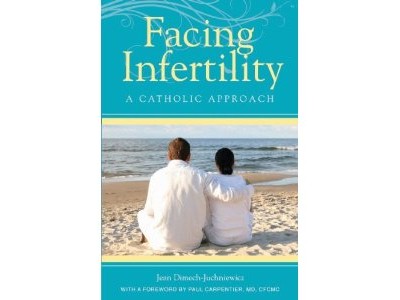 When I received a review copy of the newly-published book, Facing Infertility – A Catholic Approach, I was a bit surprised there wasn't already a Catholic book which specifically dealt with the topic of infertility.  When I searched online, I could only find secular or Christian books on this subject.
Jean Dimech-Juchniewicz's new book is an ideal resource for Catholic couples who want more information on increasing their chances of conceiving. At the same time, she explains why certain fertility procedures are morally wrong.
Because of a variety of factors, infertility has become increasingly common in our culture. Fortunately, with advances in modern technology, more infertile couples are able to conceive children. However, not all of these modern techniques are morally acceptable.  For example, selective abortion and destroying embryos that are not implanted are procedures that are obviously wrong.  But many Catholics don't realize that in vitro fertilization, artificial insemination and other modern techniques are considered offenses against our faith (Catechism of the Catholic Church 2376, 2377) and considered mortal sins.
Dimech-Juchniewicz shares her personal infertility experience as well as the various things she learned in the process.  She also includes short testimonies from infertile couples. Chapters touch on topics such as Expecting Fruitfulness, Working Through Denial, Understanding Your Options, Discerning Treatment, Handling Anger, Coping With Sadness, Considering Adoption, Following God in the Midst of Suffering and many others.  Questions for Reflection and Discussion end each chapter. Several extensive appendices list resources for the infertility couple such as "Patron Saints for Infertile Couples" as well as prayers and other helpful books.
This is an outstanding book and an excellent resource. The emotional and spiritual dimensions of infertility are covered exceptionally well.  Information on NaPro Technology and Natural Family Planning are mentioned and resources are given for these morally acceptable ways of achieving pregnancy.
Highly recommend!