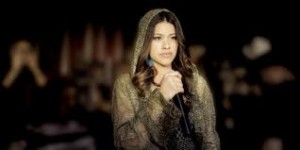 The 2012 Sundance Film Festival welcomed the premiere of Filly Brown, the directing debut of Youssef Delara and Michael Olmos.
Majo Tonorio (a.k.a. Filly Brown) is an aspiring hip-hop musician from the tough streets of Los Angeles. After pairing up with a talented DJ, Majo cuts a recording with a small-time promoter before catching the eye of an executive from a major label. As her music gains notoriety, she soon forgets the friends that helped her attain her accomplishments. At home, Majo is forced to play a maternal role to her younger sister and father as her mother serves time in prison on drug charges, Against her father's wishes and warnings, Majo visits her incarcerated mother and vows to financially support her legal appeal. The budding relationship between mother and daughter threatens to derail Majo's musical aspirations. Throughout these complications, Majo must wrestle with issues of loyalty and betrayal as she finds her truthful and authentic voice.
The standout performance of Gina Rodriguez created buzz throughout the Park City shuttle buses. Surprisingly, the film was written, financed, and moving forward before the part of Filly Brown was cast.  Imagine writing 8 Mile without having Eminem in mind to carry the film, yet the standout actress-turned-rapper Rodriguez embodied the lead character to such an extent that one would think the film was written for her.
The highlight of the story was a scene when the members of the Tonorio family finally all come together. During an interview at the Windrider forum, a group of cinefiles exploring the intersection of faith and film, producer and veteran actor Edward James Olmos commented that this was the best climax scene he had seen for decades. The directors carefully crafted this emotionally, tear-jerking scene, broken up by a snappy line of comic relief. Until the packed premiere performance at the 1,270-seat Eccles Theatre, they could only guess if an audience of this size would actually respond as intended. The heaving sobs followed by a burst of unison laughter must have exceeded their expectations.
Filly Brown is a glimpse into the family-centric, hard-working Hispanic community, yet this coming-of-age story of redemption and forgiveness rings true to those from all racial backgrounds. The evolution of the relationship between Majo and her mother resembles an inverted version of the prodigal son parable. The manipulative mother was far past deserving her family's forgiveness, yet her daughter perseveres in her love for her mother after all others had given up on her. Majo's display of unselfishness resembles the love that is described in I Corinthians 13:4-8: patient, kind, enduring, hopeful, and trusting.
Filly Brown provides an emotional, heart-felt journey that celebrates the bond of family and the need to stay true to oneself.