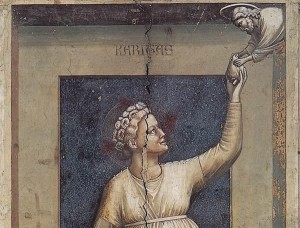 I am not a fan of Valentine's Day.
I'm not the most sentimental person around so I have always found the day to be not much more than a trite, commercialized excuse to sell greeting cards.  But like most things in life, there are always deeper Gospel connections than what we see on the surface.
Starting with the obvious, the feast of Valentine's Day is based on the life of a Christian saint who followed Jesus to the point of death. We know little about Valentine, but we do know that he was martyred for his faith on February 14th. As the early Church Father Tertullian wrote, "The blood of martyrs is the seed of the Church." And in this case, it was the seed of a celebration of love around the world.
Although the heart shaped symbol we associate with Valentine's Day has only been linked with the celebration since the 19th century, the symbol of the heart goes back much earlier. One of the earliest iterations of the graphical symbol we now associate with Valentine's Day is found in a 1305 painting by Giotto in the Scrovegni Chapel in Padua. The painting depicts Charity handing her heart to God and the shape of the object resembles what we now use as the symbol for the heart, the center of emotion, love and affection.
See, the seeds of the Gospel are everywhere – even in cheesy, schmaltzy greeting cards and doily wrapped, heart-shaped boxes of chocolate!
With that in mind, here are five Christian ways to celebrate Valentine's Day this year:
Love Your Enemies: "If you love those who love you, what credit is that to you? Even sinners love those who love them" (Lk 6:32). It is easy to love those who love us back. How about loving those we hate? This Valentine's Day, what if we all sent a valentine or a letter of forgiveness to someone we have been holding a grudge against? If the person is not alive, it is not prudent, or we are unable to communicate with them, say a prayer for the person.
Pray for Those Who Experience Abuse Instead of Love: This Valentine's Day we can join in prayer for those who experience an abusive, objectifying, and warped view of love. Let's pray for those forced into prostitution, the healing and conversion of the hearts of women and men involved in the porn industry, men and women addicted to porn, children who are sexually abused, and victims of human trafficking. Humans are made to love, but the list of the many ways we abuse and reduce love is unfortunately endless.
Read Deus Caritas Est: Yes, this is a perfect day to read or re-read Benedict XVI's encyclical God is Love. Stealing a line from this beautiful encyclical – "Love embraces the whole of existence in each of its dimensions, including the dimension of time. It could hardly be otherwise, since its promise looks towards its definitive goal: love looks to the eternal." – so ya, this piece of writing is essential Valentine's Day reading.
Pray for Vocations to Love: All of us are called to a spousal relationship. Some are called to marriage, others to an intimate, consecrated relationship with God. Either way, this Valentine's Day is a perfect time to pray for those who have not yet found their vocation, those who are discerning, and those who are committing and have committed themselves to a deep call to love.
Pick Your Scripture Valentine: I love the internet. How else would it be possible to search the entire Bible in 30 seconds for every occurrence of a word? I just searched the word "stupid" and apparently it shows up in Scripture twelve times. So, anyway, be a little more mature than me and search for the word "heart" – I usually use this web site. One of my favorites is: "I will give you a new heart, and a new spirit I will put within you. I will remove the heart of stone from your flesh and give you a heart of flesh." (Ez 36:26). Pick your favorite. This is God's valentine to you!
These are just a few ideas. Think of a few of your own and add them in the comments, I would love to hear them!