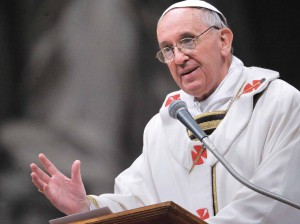 Talking about engagement in his last General Audience in May, Pope Francis continued his 2015 cycle of catechesis on the family. "The covenant of love between man and woman, a covenant for life, is not improvised," said the Pontiff, "it is not made from one day to another."
The Pope's articulation reminded me of something I heard at the beatification ceremony for Blessed Oscar Romero in San Salvador on May 23—just four days earlier. In his homily for the beatification, Cardinal Angelo Amato, the Prefect for the Congregation for the Causes of Saints, said that, for Romero, "Martyrdom was not an improvisation, but came after a long preparation."
Cardinal Amato recalled Romero's words as a young seminarian in Rome, the year he was to be ordained as a priest. Romero wrote in his notes: "this year I will make my great surrender to God. My God, help me! Prepare me. You are everything; I am nothing. And yet, your love wants me to be a lot. Courage! With your All and my Nothing we'll achieve a lot."
In other writings not quoted by Amato, the seminarian Romero talked about his relationship with God in words that could well describe the passion of two who have fallen in love and who aspire to be together for the rest of their days. "Burn off the slag and make me an iron, red hot with your love," the young Romero begged God in his notes.
According to Romero's writings, he was prepared to make the sacrifice—in 1942—that he would ultimately have to make in 1980, when he was assassinated at the altar for his defense of Christian justice and the rights of the poor. "By your Sacred Heart I promise to give myself entirely for your glory," Romero wrote on his ordination day. "I want to die this way: in the middle of work, fatigued by the journey, tired and weary … I will recall your toils and they will be the price of redemption … promitto (It., for 'I promise')."
Real passion is evident in the young seminarian's spiritual swoon: "How the heart flares when the fiery love of the Sacred Heart is blowing! Pray so that you can be holy and pure. Be strong. Virile," Romero wrote in another passage from his seminary years.
Despite the political ramifications of Romero's martyrdom, the Salvadoran Church in beatifying him unpacked the complexity of his cause by calling him simply a "Martyr for Love." Even though the surrendering of oneself in martyrdom is different than the submission of marriage, one cannot but be struck by the congruence of the run-up, from passion to promise.
As the late, great Pontiff, St. John Paul II taught us, both the celibate promises of a seminarian and the fertile promise of an engaged couple relate to our essential nature in relation to God. Celibacy harkens back to the original solitude of man with God. Man was, after all, made for union with God. Marriage, on the other hand, answers the call to be fruitful and multiply. Both fulfill the essential vocation of man, albeit in different ways.
That initial passion, however, must be forged into a substance that will withstand the challenges of fate. "The alliance of love of man and woman is learned and refined," said Pope Francis, talking about engaged couples at his General Audience talk. "The engagement puts in focus the will to protect, together, something that must never be purchased or sold, betrayed or abandoned," no matter what temptation comes along to draw one away from the promise.
In San Salvador, Cardinal Amato recalled the example of St. Augustine, who "asks the Lord to give him the strength to love heroically either through martyrdom or through affection" and he said that Augustine's prayer "could well have been spoken with the same intensity and sincerity by Archbishop Romero," who developed his youthful promise into a fulfilled commitment to surrender his life for love.
Every engaged couple should pray that their promises will so endure.