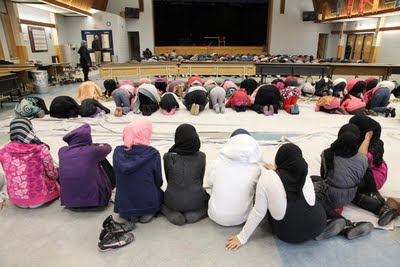 Valley Park Middle School is in the news again. Some weeks ago, this Toronto, Canada, school was highlighted for allowing Muslim students to hold a 30-minute prayer service in the school cafeteria during class time each Friday afternoon. That brought an initial wave of uproar from both sides of the debate regarding the permitting of prayer in public schools.
Now Valley Park is making headlines because of a photo printed in the Toronto Star, showing a group of female Muslim students separated from the rest because they are "unclean." According to Sharia law, women are "unclean" during menstruation, and must be segregated from the "clean" students. The story questions whether the prayer times are permissible under Canadian law. Feminist groups question the fairness of the separation itself, citing gender discrimination. As a parent, I question why the prayer services are happening at all. Why is a non-Christian faith being held up as example for our children while the practice of Christian faiths is banned? This is not a question of gender discrimination; it's a question of faith discrimination.
Time and again we see news stories about Christian students who have been ostracized, punished, and expelled for bringing Bibles to school or even so much as wearing Christian symbols on their bodies or clothing.
Consider the case of Kenneth Dominguez, 16, who was suspended for two days after bringing his Bible to Gateway East High School in El Cajon, California. In January, 2010, Dominguez's teacher forbade him to talk about his faith at school, due to the "separation of church and state". Convinced that he had something to say that other students wanted to hear, Dominguez continued to share his faith with other students. He then was ordered not to bring his Bible to school again. Two days later, his teacher confiscated his Bible and suspended him.  The Dominguez Family filed a law suit against the Grossmont Union High School District. Even the American Civil Liberties Union — notorious for squelching any public show of faith — defended Dominguez, saying that his rights had been violated, as his actions had not been disruptive to the school day.
So…Let's see if I've got this right. An entire group of Muslim children can congregate and hold a prayer service in the central area of their school building, openly practicing their faith, and taking up space that belongs to the entire school and could conceivably be used for other functions during that time, but a sole Christian student isn't allowed to bring his own reading material (Bible) to school and share his faith with other students in casual conversation, and outside of classroom and class time?
Even more alarming is the undue concern for the rights of the menstruating girls who are separated from the other Muslim students. They aren't being discriminated against, they are practicing their faith! To our non-Muslim ears, this sounds like cruelty. To their Muslim ears, it sounds like a centuries-old tradition. If the tradition no longer is viable, indeed, even if it is cruel, the Muslim community should figure that out for themselves — it's not our business. The question is not, why are these girls segregated, but why are the Muslim students holding a prayer service in the school cafeteria when their Christian peers are forbidden from doing the same?
I wonder what would happen at Valley Park Middle School — or any other public middle school in the country — if the Lutheran students would wish to hold a communion service or the Catholic students would wish to celebrate holy Mass in the school cafeteria. Would the administration allow even a small group of students to gather and say the Rosary or study the Bible during lunch hour? I doubt it, but I'd certainly like to see what would happen if they tried.