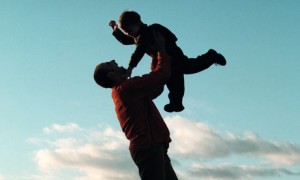 During a recent coffee meeting with a friend, he said, "You seem to have your act together on the fatherhood front. What's your secret?" I was taken aback because I don't think I have my act together at all. I don't mean that out of false humility. I pray every day to be a better husband and father because I know all of the areas where I fall short. Before I could answer my friend, he received a call on his cell phone and had to run. The topic, however, stayed on my mind throughout the day.
What does "having your act together" as a Catholic father really mean? I'm not the expert, but it seems that this sort of father likely has his priorities straight with Christ first, family second and work third. This kind of dad spends quality time with his family, not just time. This man is a role model to his family in living out his Catholic faith and being the light of Christ to others. He has joy in his heart and is a man of prayer. This Catholic dad honors and loves his wife and lifts up the Sacrament of Marriage in the eyes of his children as something special and sacred. He finds in St. Joseph, the patron saint of fathers, an ideal role model for how to serve God and his family.
What sort of rules or maxims might this Catholic father who has his act together follow to stay on the right path? If we consider what Scripture and the Church teach us, we can look to these four points as our guide:
1. Our vocation is to get our families to heaven.
2. Our children are always watching us. They will likely model later in life what they learn at home.
3. We are made for heaven, not this world. Let's act accordingly.
4. Our children are God's gift to us. The love and care we show our children is our gift back to him.
Feeling convicted? Me too.
So, why did my friend say what he did over coffee? I believe he knows that I try to be a good father despite my numerous failings. He sees that I keep at it and don't give up. He knows that I constantly pray for guidance and help. I don't really have my act together, but I do sincerely believe failing as a dad is not an option because my children would ultimately pay the price if I am not successful in my vocation as a father and husband.
Blessed John Paul II once said, "It is easier for a father to have children than for children to have a real father." How true.
Guess what dads? Sometimes you and I simply have to try harder. We have to give our best even when we don't feel like it. We have to sacrifice some work time, fun time, down time, me time for the sake of our families. It would be wise (although scary) for us to realize that our kids watch our every move and they will be like us one day. I pray that my example will be good.
Dads, I encourage all of us to take the four points listed above to prayer. Let's not allow our pride to keep us from asking for help. Seek the intercession of the Blessed Mother and St. Joseph. Let's pray for each other, challenge each other and encourage each other to live out our vocation to fatherhood with courage and honor.
We can start this very day.