"Home-grown."  "Hand Picked."  "'Native Produce."  Signs like this are beginning to dot the roadside as sticky hot August rolls into cool crisp September.  Ask anyone in my family and they'll tell you that it is my favorite season of year.  Why?  Because I absolutely love farmer's markets, roadside stands, and U-Pick produce!  In an age of mass production and slick marketing schemes, hand-painted, roadside signs like these attract my attention.  First of all, it must be admitted that this attraction comes from the fact that I have a fruit tooth as well as a sweet tooth, but also because such signs let me know that whatever is being produced has been chosen carefully and tended to with love.  Chosen carefully and tended to with love; it is the same way I would describe how to produce a faith-filled Catholic family, simple as it may sound.
Six years after writing the paragraph above, announcing the birth of my brand new Catholic family life column, Homegrown Faith, for the weekly Catholic newspaper of the Diocese of Fall River, MA, I have a new "baby" to announce; Homegrown Faith, the book version!  That's right, not only has the my regular column been multiplied into material for online collaborations with other Catholic authors since I began writing it in 2005, Servant Books has now releasing a 365 devotional book based on it;  Homegrown Faith: Nurturing Your Catholic Family.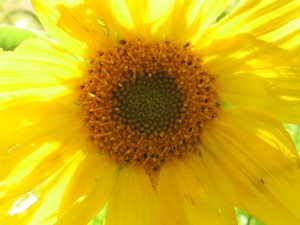 To everyone who encouraged me over the years to put my column into book form, thank you!  You can stop making photocopies of the newspaper column and/or scouring the web to find a specific column to share with friends and family.  The book contains 52 of your favorite columns; those about teaching teenagers to drive, learning life lessons from caterpillars and hurricanes, having baby number six at age 41, and doing mission work in Honduras, Central America.  Plus, in order make it as easy and as realistic as possible for Catholic parents to gather the seeds of faith and grace sown in church every weekend and grow them right at home all week long, I have written reflection questions after each column.  The reflection questions will help individuals and groups dig a little deeper into the spiritual component of each story, so if you are in need of a new book for your mother's group, Bible study group, or book club, look no further!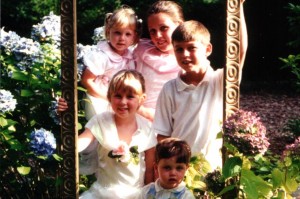 Of course the origins of my column and now my book are homegrown themselves. As a Catholic parent, one of my greatest joys has been accompanying my six children, ages 3 to 21 years old, on their journeys of faith, nurturing their knowledge of the faith.   When I began writing my Homegrown Faith column six years ago, I told readers that "my chief hope in writing this column is to make faith in Jesus Christ real and relevant to you by sharing stories and analogies that illuminate scriptural truths.  I'm a big believer in the idea that faith is more often caught than it is taught, and even when it is taught, I believe that you can only teach effectively that which you love.  So I want to encourage you, as parents, to love Jesus more.  I believe that if I can encourage you in doing this, your children will catch on naturally.  I'm going to be relying on the inspiration of the Holy Spirit to help me do this in the midst of my own parenting responsibilities, and would appreciate your prayers."  Again, it's amazing how that hope remains unchanged and how the Holy Spirit has indeed inspired, blessed, and multiplied my little efforts at sharing lessons learned in my "domestic church."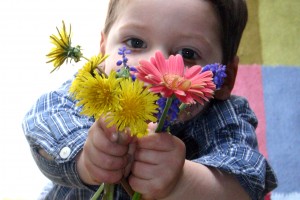 Mary Kochan of CatholicLane.com is one of the wonderful endorsers of Homegrown Faith; Nurturing Your Catholic Family. In her review Kochan writes, "To grow through the Church year with Heidi Bratton is to see Truth revealed by the most ordinary things and events of day-to-day home life – a ringing alarm clock, a missed cup of coffee, a pot of boiling water… and it is especially to see how grace is revealed by the most extraordinary things – those eternal beings we sleep, play, eat, and argue with, that collection of souls that God has assembled into a family. Best of all, Homegrown Faith does not stay home; it moves out in mission – to foreign countries, to engage our separated brethren, to change the world. A year spent with Heidi will grow faith in your home – and beyond."
Cardinal Sean P. O'Malley writes in his introduction to the book, "Our Holy Father, Pope Benedict XVI, during the course of his visit to the United States in 2008,  noted that through family life we experience "the fundamental elements of peace: justice and love".  In addition, the Pope noted our responsibility to promote the values which enable the human person to flourish and reminded us that it is the unique responsibility of parents to firmly plant and nurture those moral values in their homes.   By way of Homegrown Faith, Heidi Bratton makes an important contribution to this mission, providing the opportunity for families to come together in prayer and to recognize the many blessings they share, even in the midst of the inevitable challenges.  In addition to making Homegrown Faith part of your personal spiritual reading, I encourage you to consider this book as a gift for your relative and friends who are raising families or spend time with their extended families."
Homegrown Faith, Nurturing Your Catholic Family will be released on August 15, 2011 and is now available for pre-orders on www.amazon.com.  If you would like to book an author appearance, chat about any of my books, or just say hello please visit my website at www.heidibratton.com or email me at homegrownfaith@gmail.com.