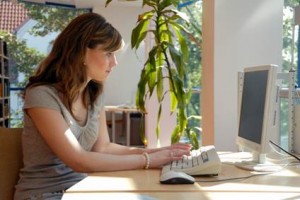 It's that time of year again in New England – the days are getting shorter, the nights are getting cooler and the kids are getting ready to go back to school. College kids are packing boxes, suitcases and car trunks to move their necessities anywhere from 25 miles to 2,500 miles away. But this is not the reality for every college kid. In years past, those who could not afford to leave home for college only had a few choices – attend a local community college or travel an hour or more to attend a state school. Today, college students do not even need to settle for this.
The advent of online learning has changed the face of education in the twenty-first century. Now many schools offer more affordable online options to students, and online education can now be found at every level of higher education; Bachelor's, Master's and even Doctoral degrees are available from the tiniest colleges to the mighty ivy-leaguers.
Catholic online learning is a leading trend in today's Catholic college market. These programs meet the needs of those students who do not live near a Catholic institution but hunger for the substance of a faith-focused perspective. Holy Apostles College and Seminary, Franciscan University and the Aquinas Institute are three such schools that offer affordable and high quality online options to their student body.
Holy Apostles College and Seminary, located in Cromwell, Connecticut, currently offers both a Master of Arts in Theology or Philosophy completely online. New this Fall 2012 is a selection of 9 undergraduate course offerings available to augment the accredited on-campus bachelor's program, allowing commuter students and others the chance to gain valuable undergraduate credits from the comfort of home. A Master in Pastoral Studies can also be done online with a number of intensive courses being planned to fulfill a short residential requirement. All degree programs offered at Holy Apostles College and Seminary are regionally accredited.
Franciscan University, located in Steubenville, Ohio, has recently added a Masters in Education to their Distance Learning program. This degree which has a concentration in Online Instruction works to form the teacher both pedagogically and practically. The Master of Arts in Theology and Christian Ministry can also be earned through Distance Learning. Franciscan University does have a residency requirement which can be met by signing up for their 3-week intensive courses held during the summer months. Only six credits, or two courses, are required to be done in residence. Residence is not limited to the summer months; students can choose any semester that works best in their schedule. All degree programs available at Franciscan University are regionally accredited and founded in the Franciscan tradition.
Aquinas Institute, located in Saint Louis, Missouri, offers two degree programs in a hybrid learning environment. The Master of Arts in Theology and the Master of Arts in Pastoral Studies can both be completed in this hybrid format. Online learning is combined with onsite intensive sessions to allow the student both the ease of distance learning and the face-to-face familiarity of a classroom environment. Aquinas Institute is regionally accredited and founded in the Dominican tradition.
If a return to school is on your agenda for the future, consider the option of Catholic distance education to eliminate some of the stress of the more rigid, on-campus style of study. Today, everyone has access to orthodox Catholic institutions no matter where you live. Distance Learning allows students to study at top-rate schools for a fraction of the cost of an on-campus program. Check it out today!