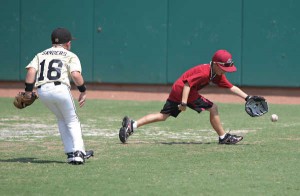 Sports are often said to be a microcosm of life. But for kids playing on their first team, sports can provide valuable life lessons and opportunities for developing virtues. Coaches, then, can be influential mentors who start youngsters on the right road. Yet it's not as simple as it looks.
I had been thinking about coaching for some time – praying about it, in fact – wondering if I had what it takes. I love to teach (as a local adjunct professor), I love sports, and had been inspired when my son, Kevin, was one of the best 8-year-old players in our town's spring and summer tournament. My mind was made up when, one cold day last February 2012, the tournament team manager asked me if I would like to help coach his spring team. The player quality would be very mixed, but my coaching presence would grant the manager the right to draft my son Kevin again, this time as the son of a coach.
The practicality of his draft pick didn't matter to me. The prayer had seemingly been answered.
A little later, I asked Kevin if he would like me as an assistant coach on his team. I waited to learn if he would have a very "son-like" reaction of "No way!" since he has enough of me at home. But, his reaction was as far opposite and deeply moving as it could be. "I wish you were the manager, dad." Boy did that make my evening.
Our Long Island Little League starts early, just like the pros. Practices in early March. Opening games in early April. The weather is challenging. We have a very diverse community as well, ethnically and economically, and many parents have high hopes for their young ones in terms of baseball scholarships and even sports careers. The atmosphere on the field and in the bleachers can become intense.
I was a nervous wreck at the first practice, and felt like an intruder on the field, until manager Rob, a wonderful baseball guy, kept asking me to speak to the kids.
We focused on fitness and fundamentals, of course. How to throw properly, bat, run the bases, and maintain consistent techniques and on-field awareness.
Then came the real games, where much of what I just mentioned went right out of the kids' minds. My reaction – it was still a Field of Dreams. Once the games started, I forgot my age. I was part of the team, with a bunch of kids just like me.
We had a mixed season. Clearly there were some stronger teams, a number of them with older kids. We had a young bunch, which made some games tougher. We had four tournament players, but the quality dropped off pretty quickly after them. Still, we kept improving as we went on. The true test of coaching skills, I believe.
I've acquired several instructional books and DVDs since the season ended – showing me a million things to do better. I'm picking the best of the best.
But the big takeaway is that you can never stop improving as a coach, and a person. It's way more than you ever envisioned, because baseball is full of technique and changing tactics. And because life and other human beings (even kids) are diverse and complex.
Coaching is a powerful meeting of technical and human elements, involving not only impressionable young people, but also parents, umpires, other coaches, and league officials. If you want isolation and a scarcity of interpersonal challenges, don't coach.
But if you want to help a player live out personal growth and improvement, while you take on a handful of spiritual challenges you might never have imagined, give coaching a try. It's a rich, diamond-shaped puzzle.
This article originally appeared on Fathers for Good and is reprinted with permission.