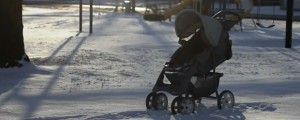 Standing outside of an abortion clinic is not a pleasant experience. No matter how many friends or family members are there praying and helping to counsel women close by, the thought of innocent lives being ended in the building right behind you is inescapable. Sometimes it can seem like no one is even listening, and the people going into the clinic pass by pretending they don't notice you. But God is there reaching out to those women who will open their hearts to Him. That's when a miracle can happen, and a life can be saved.
Such is the experience of Joannes Bucher who came face-to-face with a child saved thanks to his pro-life activism.
While praying and passing out literature in front of an abortion clinic in Vienna, Austria one day, Joannes became distraught when it appeared none of the women he tried to talk to were going to choose life for their babies.
"Their hearts were really frozen, and they didn't take any information. And I thought, 'Wow, what's going on? It's really a sad world,'" said Joannes, who is Human Life International's (HLI) regional director of Europe, in a video interview released last week.
The video is a bonus clip from HLI's new documentary "Central and Eastern Europe: A Return to Life" which airs on EWTN at 10:00pm EST on January 25, the evening of the 40th March for Life in Washington, D.C.
After a somber day of standing in front of Vienna's abortion mill, Joannes and his team of pro-life counselors decided to go relax at a park that was close by. There he would meet someone who would change his life.
"As we were in the park, this beautiful area behind the Schloss Schönbrunn, we played frisbee," Joannes said. "It was a beautiful day … we made a circle and shot the frisbee to each other. And suddenly a woman with a stroller came around and passed us … And I said, 'Hey do you want to play with us?' And she said yes."
"And as I walked to her, of course I just mentioned that she had a beautiful baby. And she said, 'Yes of course. This is all that I have. It's a miracle. … But don't we know each other? Aren't you the guy who gave me the booklet and motivated me not to have the abortion?' And I was just shocked," he said.
As the others gathered around to hear the conversation, the woman with her child said to Joannes, "This is Oliver, and he is living because of you."
"That was really emotional," Joannes recalled.
Not only did Joannes have an impact on this woman to save little Oliver's physical life, but she asked that he continue to be involved in his spiritual life as well.
"She said immediately, 'A lot of people in my family were against me [having this baby]. Are you ready to be the godfather?' She wanted to baptize him. … And now I'm the godfather," said Joannes.
With the 40th anniversary of Roe v. Wade next week, Joannes' story is an inspirational reminder of the real impact pro-life advocates can have in the fight to protect and defend unborn life. While the media will be working to ignore the hundreds of thousands of people marching through Washington, D.C., it's clear that public prayer and support for the pro-life cause can help women open their hearts to God and choose life for their babies.
"If you work for Him, He will use you," said Joannes. "And He needs you, and He will give you the best He can and honor you in His way."