Please click for: 
Part1
, 
Part2
, 
Part3
, 
Part4
, 
Part5
,
Part 6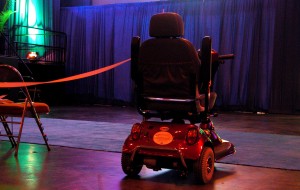 In 1991, the MS forced me into medical retirement from the Canadian Civil Service. I sank into a clinical depression. Being put out to pasture at 38 years of age is not a pleasant prospect.
Now, more than 28 years since my diagnosis with MS, my physical health is gone, but Christ is teaching me contentment in my deterioration. It's been years since  I walked (I'm electric wheelchair/scooter dependent). Perhaps in my coarse and unrefined way I am being taught something about what the Apostle Paul said in Philippians 4:11: "Not that I speak in regard to need, for I have learned that whatever state I am in, to be content." (NKJV)
Cynics are apt to read the last seven parts of my story (including this one), wink at each other, and say all this 'Joy' and contentment business I refer to are mere fabrications of my mind. Agnostics and neo-atheists may say that Faith is a crutch for weak people, and in my case, a pathetic and desperate way of trying to deal with a horrible disease. [1]
If that be the case, let me have my Ecstasies, my Romance and my "raids of Joy"  as C.S. Lewis would say. Allow my increasing reigns of contentment. Let me believe I have been touched by the Master. What does it matter to them! Neo-atheists must conclude that life is pointless and without purpose — for purpose implies design. Let me be content with my Joy in the face of a disease that has stripped me of physical function (with the exception of my left arm).
Throughout the years, a few well-meaning but bad mannered Christians have told me that the reason for my chronic sickness was because of unresolved sin in my life. I asked the Lord to show me any unconfessed sin in my life so I might confess it. He did and I have. The multiple sclerosis remained. Others have said that my faith is too weak and that is why I have not been healed.
Christians must be careful with these sorts of comments — particularly when they do not have all the information. Comments like those above reduce people with chronic illnesses and severe disabilities to a type of sub-Christian status and have driven many people with disabilities and their families away from the Church. The irony of this is that the Church is where the disabled and sick should feel most at home!James 5:14-16 says:
"Is anyone among you sick? He should summon the presbyters of the church, and they should pray over him and anoint (him) with oil in the name of the Lord, and the prayer of faith will save the sick person, and the Lord will raise him up. If he has committed any sins, he will be forgiven. Therefore, confess your sins to one another and pray for one another, that you may be healed. The fervent prayer of a righteous person is very powerful." (NAB) [2]
I know this is true and have seen deliverance according to these Scriptures. One example in particular stands out in my memory. While speaking at a conference in the U.S. a number of years ago, I met a man about 35 years of age who had suffered most of his life with severe cerebral palsy. When I met him there was no sign of it.
He walked as straight as an arrow and spoke as clear as you or me. He showed me his graduation picture. Sure enough, he had the classic rigid and spastic look so typical of CP. Yet there he stood in front of me as normal as any person.
My adult daughter was with me. As the fellow walked away normally my daughter and I were stunned at what we saw. There are other cases of devine deliverance I have come across. There's no denying it happens.
In the preceding verse to the passage (verse 13), it says, in part: "Is anyone among you suffering? He should pray." Our actions and behavior surrounding annointing are to be based on a foundation of prayer.  God has not told me He will deliver me from multiple sclerosis. Instead I have been asked other things:
If this is the will of God, can I accept that?
If MS is a vehicle for me to be changed and if God must use the fire of multiple sclerosis in order to make me more like Christ, is that okay?
If God can use my affliction in order to touch somebody who might not otherwise be touched by God, can I accept that?
If I am able to serve God better crippled than walking, is that okay?
GOD USES DISABILITY
Let me tell you something: I have been more use to God disabled than when I was healthy. For example, when I was a healthy Christian I was involved in a prison ministry. I would talk to the prisoners about Christ and their eyes would glaze over. They turned off. The expressions on their faces told me what they were thinking:
Ya, buddy, it's easy for you to talk. You get to go back to your ticky-tacky middle class house and your pretty wife. You'll probably play with your kids in front of a warm fireplace. It's easy to praise God when you've got all that. I will go back to my jail cell.
They were right. It easy to praise God when I was a winning.But I kept going back to that jail after I developed MS. The prisoners saw me walking with a cane, stumbling, dragging a leg. I would say to them, "I have a sentence that's longer than your sentence. [3] My sentence is for the rest of my life and my prison is my own body. God is still worth praising." Suddenly I had an authority I didn't have before!
With the rise of euthanasia and assisted suicide acceptance, God has opened doors for me to speak across North America for the sanctity of human life and the need for governments to resist pressures to legalize euthanasia and assisted suicide. I have addressed legislators in Canada and the U.S., community and religious leaders, medical associations, hospital staffs and university law faculties. God has put me places I never could have imagined.
TAKE EVERY OPPORTUNITY TO WITNESS AND PRAISE GOD
Within the past two weeks I have been diagnosed with cancer. Tomorrow I will enter a cancer clinic to begin treatment. It may provide me with an opportunity to witness for Jesus Christ — but this time I may find myself with many people who have cancers much worse than mine and are facing the very real prospect of dying. What a wonderful opportunity!
SOME QUESTIONS
Do we only praise God when things are going our way? Do we only praise God when our health is good and we have employment or got a promotion? Do we only give God praise when our parents are well, our marriages intact and our children or grandchildren are safe in their beds? What kind of Christian faith is that?! Are you able to still praise God when things are going dead wrong?
When I met Christ 32 years ago, I was happy just to be in His presence. If he had taken me home then I would have gladly gone. I only asked that He would not sake me and that I might become more like Him and less like me.
Well, Christ has not forsaken me. And surely these ordeals must be making me more like him.There is a divine purpose in all this. There mustbe. My Saviour would not make me the butt of some cruel joke. Christianity does not guarantee me an easy ride. But I do have Jesus as my Lord and He loves me. Isn't that enough?
What about deliverance from disability and sickness? Some men are guilty of sins of the flesh; I am guilty of the sin of Pride and the illusion of self-sufficiency. If incurable illness and disability are what it takes to cut down that colossal Pride … then so be it.King David said in Psalm 119.67, "Before I was afflicted I went astray, but now I keep your word."
Jesus told us that it is better to enter the Kingdom of heaven without a member of our bodies than be lost with our whole selves. If I really gave my life to Jesus to do with, in His wisdom, as He sees fit, … then what is my complaint? The early Church fathers knew that a decision for Christ meant persecution, perhaps even death. They chose Jesus for Jesus'sake.  To be right with God, to have Jesus say, "You are mine" — that was enough. Is that enough for you and me?
HEALING IN THE FIRE OF AFFLICTION
Somebody may ask, "What about healing?" I am healed. I used to be whole on the outside but I was crippled on the inside. Now I am crippled on the outside but have received healing on the inside. And if you had the power to give me a choice between the two, I would choose the way I am now.
I am free: I have Jesus. A loon's call does not break my heart anymore.
[Editor's note: since this article was written, Mark has received some good news about his cancer. Keep an eye on his blog for further updates!]
_______________________________
[1] I think I know a thing or two about crutches — not to mention canes, wheelchairs, and weakness too.
[2] A note to this passage in my New American Bible states: "The results of the prayer and anointing are physical health and forgiveness of sins. The Roman Catholic Church (Council of Trent, Session 14) declared that this anointing of the sick is a sacrament "instituted by Christ and promulgated by blessed James the apostle.""
[3] The jail was a provincial prison and only housed prisoners with sentences 2 years or less.