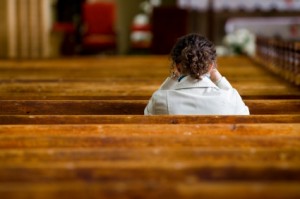 Last year, I helped teach high school students at my parish's faith formation program in St. Ignace, Michigan. We took the students to exposition, and afterward, one of them asked me how to tell when she is hearing God's voice. This is an edited version of the letter I wrote her.
Dear M.,
I'm glad you're asking questions like these. Those are the questions I was asking in high school, and I was really frustrated that nobody would give me answers to them. I imagine more questions like these will come up, and when they do, I want you to remember two things:
1. Learn what the Church teaches on the subject, and why. If you don't know, look it up. Remember that you're looking for "what the Church teaches," not someone's opinion. Different people have different opinions, and when you're after truth, you want something consistent and actually true. The Catechism has a good summary of everything; Catholic Answers and EWTN are also helpful.
2. Know that the Church does have answers. If you haven't found an answer that satisfies you, that really answers your question, keep looking, and don't give up.
Now, on to prayer. You asked how to know if you're hearing God's voice or just your own voice in your head. I'll do my best to answer your question – but again, if I don't answer it well enough, ask.
I remember reading a thing on prayer for teens, and it said that prayer is like texting God. I was really upset. That's not helpful at all, and it isn't really true. I guess prayer and texting are both communication between two persons, but as far as communication goes, they're not really very similar. Prayer is lifting up your heart and mind to God.
First off, when you're praying, don't expect to hear an actual voice with your ears, and don't expect to have the right answer pop into your heart or mind in a clear, obvious way. If this happens, especially if you hear an actual voice, talk to a priest.
God does call some great saints to do radical things. St. Francis of Assisi gave up all his worldly possessions and founded a religious order. St. Catherine of Siena wrote letters to the pope telling him to get his act together. St. Joan of Arc left the farm and led the French army to battle. Some saints lived for years eating nothing but the Eucharist. This is all really great, but it's not normal. While God does want us to love Him and obey Him with our whole heart, usually He wants us to do so in our "state of life" – for you, that means as a student, friend, daughter, sister. Later, it may mean as an orthodontist, or as a wife and mother, or whatever. If you do think God is calling you to something like particularly radical, talk to a priest.
Prayer builds our relationship with God, and remember that relationships are built over time. Think of some of your closest friends, and think about how your relationships are different now than they were when you first met. How did that happen? It was time spent together – time spent chatting, playing with each other's hair, carpooling, studying together, spending the night at each other's houses, all the stuff of friendship. When you spend time together, your relationship grows, and you don't always notice it growing.
In the same way, our relationship with God is built during the time we spend with Him – in prayer, especially in front of the Blessed Sacrament. In some ways we have to put more effort into our relationship with Him than our relationship with regular people – we can't just chat on the phone with Him, or have Him over to commiserate over exams, or paint His toenails. Much of the "stuff of friendship" we can't really do with Him, because although He is present, He is present in a very different way. This is where prayer comes in. Part of prayer is just spending time with Him to build that relationship.
This may mean reading the Bible, saying the Rosary, or kneeling before Mass and turning over in our minds and hearts what all these things mean. While saying Rosary, we meditate on the various mysteries; maybe while mediating on the Annunciation, we can think about our Lady's words: "Be it done to me according to Thy will." Maybe she understood how great an honor it was to bear the Son of God, but her life wasn't all easy. She had to figure out how to deal with being pregnant before she married Joseph ("an angel appeared to me and my son is the Son of God" isn't an explanation that would satisfy my parents if I got pregnant before I married). And after giving birth to her Son and raising Him, she watched Him be condemned to death, beaten, and crucified. That couldn't have been easy, but she accepted all of that when the angel appeared to her and she said "Be it done unto me according to Thy will." She knew that she would suffer, and she knew that in the end God would reward her for her faith in Him. And now she is queen of heaven.
In prayer, read a section from the Bible or think on the mysteries of the Rosary, and let your thoughts go further. What does this really mean? What would this have really been like? What does that mean for me? How can I follow our Lady's example, even though I'm in different circumstances? (Is my heart as open to God's will as our Lady's heart?)
Part of prayer is asking God for guidance. This is when the "listening" comes in, when we try to hear God's voice. First, we have to be patient. God doesn't usually tell us everything all at once. We have to keep coming back, keep praying, keep asking. Second, we have to open our hearts to His will. The answer He gives us might not be the one we want, and it might involve suffering. Are we open to that? Are we willing to accept whatever God asks of us, as our Lady did? This takes practice.
Keep building your relationship with God, even when you don't feel like you need it. The closer you are to Him and the deeper your relationship with Him, the more quickly you'll recognize His voice. Here are some ways to start:
St. Francis de Sales said "No thoughts which cause us disquiet and agitation come from God who is Prince of Peace; they are, rather, temptations of the enemy, and therefore we must reject them and take no notice of them." If, on the deepest level, you feel angsty and conflicted about what you think might be God's will, it probably isn't God's will. God may require us to make sacrifices, but on the deepest level, doing His will brings joy and peace.
St. Joan of Arc said "All I know about Christ and His Church is that they're the same thing, and we shouldn't complicate the matter." The Church teaches some specific things about morality: lying is wrong, envy is wrong, murder is wrong, etc. In addition, the Church teaches some specific things about virtue: love is good, patience is good, courage is good. The Church is the Bride of Christ, and in a good marriage, both parents are on the same page about what they teach their children. God won't tell you to do something that the Church teaches is morally wrong. If you think you are hearing God tell you to lie or do something else you know is wrong, that's not God's voice.
God has already told us the basics. When asked about the most important commandment, Jesus said to love God with your whole self, and, second, to love your neighbor as yourself. We know that God is always calling us to love more deeply, more purely, less selfishly. When you are unsure what to do in a particular situation, think about the most loving thing to do, and ask God to guide your thoughts and lead you closer to Him. How can I put God first, and put others ahead of myself?
I wish I could give you a clear-cut method so you would always know whether you're hearing God's voice or something else. But God isn't a system or a computer; God is a Person (or rather, three Persons) who love deeply. And he will help, as long as you ask and persevere in your asking.
AMDG (ad majorem Dei gloriam – for the greater glory of God)
Mary
This article originally appeared on Ignitum.com and is used with permission.