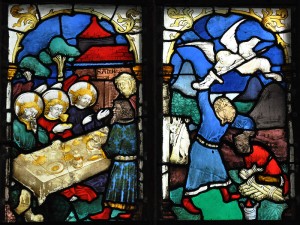 I was sitting in the easy chair at home when my five year old daughter Liz said, "Dad, I want to whisper something to you," and put her lips to my ear. When her four year old sister Stephanie saw Liz whispering in my ear, she hurried over to the other side of the chair and put her ear up against my other ear.
It was somewhat distracting.
"Honey, what are you doing?" I asked Steph.
She answered: "I want to hear Liz's whisper come out the other end."
The silly goose!
She failed to realize something important about what she described as the "talking straw" that she imagined running between my ears. I'm here, too. It's not an uninterrupted pipeline. I intercede between "Ear A" and "Ear B." (Or does Steph think her Dad is really that much of an air head?)
It made me think of the perennial question: Why does God use messengers and intermediaries? Why doesn't God just put stuff straight into my head? Why doesn't God just do everything directly? In a drought, why do we pray for rain instead of praying for the corn to pop straight out of the cracked ground with nary a drop?
The first thing I realized is that God, in fact, often does do things directly. He imparts visions and revelations and performs miracles, right here in our world, in our own day and age. Lots of them. You can read about them in any number of places: books, blogs, songs, you name it.
Some examples are books like Mother Teresa's writings (introduced to me via 33 Days to Morning Glory by Father Michael Gaitley), Jennifer Fulwiler's Something Other Than God, Father Dwight Longenecker's blog posts here and here, and songs like John Elefante's powerful "This Time". If you watch The Journey Home on EWTN you'll hear of many such graces from ordinary, everyday people just like you and me.
Evidently, God does act directly sometimes. But why doesn't God do it all the time (especially when I think He should!)? Bruce Marshall provides an answer to that mystery in his wonderful, crisply-delivered and humorous little book Father Malachy's Miracle.
In seeking to understand God, it also helps to remember that all that will be, has not yet been. "I will put my law within them, and I will write it upon their hearts; and I will be their God, and they shall be my people" (Jeremiah 31: 33), Perhaps these words that God delivered through Jeremiah are just waiting for us to be ready to receive God more directly.
In her book Something Other Than God, Jennifer Fulwiler quotes from C. S. Lewis's Mere Christianity on this point: "[God] shows himself to some people more than others. Not because He has favourites, but because it is impossible for him to show Himself to a man whose whole mind and character are in the wrong condition."
Now brace yourself. When God does show up in those burning bush moments, it usually isn't to announce the arrival of easy street. Just the opposite. That's generally the time things are going to get tough and dicey. (But isn't that the way graces work? We get 'em cause we need 'em—and if we're getting more, we can probably count on needing more.)
Still another possible answer to the question of why God uses intermediaries, why He sends rain instead of making corn pop out of parched ground, why He sends messengers instead of doing everything Himself with flashing lightning bolts and crashing thunder, is found in Scripture.
In reading Genesis I was struck by Abraham's answer, "Here am I" (Genesis 22: 1; Genesis 22:11). When Abraham hears God call, he is prompt and ready for action. Abraham acts with alacrity each time he hears what God wants. For example Abraham and his whole household were circumcised the very day he received God's command (Genesis 17: 23), and when Abraham was told to go to Mount Moriah, he woke early in the morning and left (Genesis 22).
Sprinkled throughout Scripture are people who answered God with the same words, "Here I am," and acted in the same prompt way: Jacob being called to lead Israel into Egypt answers "Here am I" (Genesis 46: 2); Moses at the burning bush answers "Here am I" (Exodus 3: 4); When God calls Samuel in the night, Samuel wakes and answers "Here I am!" (1 Samuel 3: 4); In Acts, Ananias is called by God to go to the feared Saul (soon to become Paul), and answers, "Here I am, Lord" (Acts 9: 10).
The "Here I am" of the faithful forms a nice symmetry with the great "I AM" of God (Exodus 3: 14). It shows us something beautiful and, frankly, astounding: God makes a place for us in His plans. In every age and generation, God has things He wants done and He gives us a chance to be part of it. God's use of others—rains and messengers, prophets and potentates, kings and shepherds—isn't a design bug, it's a feature. God extends an invitation to us to join Him in His work.
Father Barron asked a provocative question once in reflecting on God's first call to Abraham. In his homily "The Adventure of Faith" on the CD The Best of Father Barron, Ten Sermons to Stir Your Soul, Father Barron said: "Sometimes I wonder in the Bible if God tried this several times before someone said yes. Maybe He did. Maybe Abraham is the first one to say, 'Okay, I'll take you up on this offer.' "
There's no greater offer going. We can join God in His work. He wants us on His team, and it's amazing that God gives us the opportunity. Abraham, Jacob, Moses, Samuel, and Ananias all had their chance and they took it. Now it's our turn to answer the great I AM. God has things He wants done in our time, and we're the ones who are here. The invitation is ours. It's our turn to answer: "Here I am!"