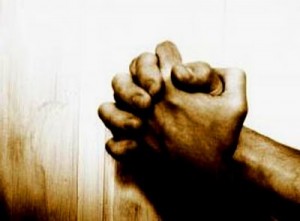 The moment doesn't last that long. A few minutes, tops.
It happens every Saturday morning I'm able to drag my body out of bed at 6 o'clock to join my brothers in Christ at a local Bread Company. Either Larry Boldt or Jim LaVictoire passes out a card to each member of our group — usually from six to 10 men — and we together pray the "Litany of Humility." It is solemn, deliberate, as each of us reads one line, then the group responds.
O Jesus! Meek and humble of heart, Hear me.
From the desire of being esteemed, Deliver me, Jesus.
From the desire of being loved, Deliver me, Jesus. …
That others may be chosen and I set aside, Jesus, grant me the grace to desire it.
That others may be praised and I unnoticed, Jesus, grant me the grace to desire it. …
When we are finished, there always is a pause. We know something special has just happened. Something in us has changed, if only for a little while. We have glimpsed something in ourselves — a desire for humility — that doesn't show up quite so powerfully most days.
There is an intimacy — a holy intimacy — within the group.
In the First Letter of St. Peter, our first pope writes: "As He who called you is holy, be holy yourselves in every aspect of your conduct, for it is written, 'Be holy, because I am holy.' "
I read that and consider it in my own life. Yet the words of a current Addison Road song echoes in my mind and heart: "What do I know of holy?" Indeed, what do any of us know of holy? Holy is something sacred, something consecrated, something devoted to the service of God. Holy is someone saintly, godly, pious, devout. Holy is spiritually pure.
Holy is God.
At our Saturday morning gathering, we are salesmen and consultants, supervisors and tradesmen, professional business trainers and retired engineers. We are family men, married men, with all the ups and downs that go with that. We try to help at church where we can, often wonder where we fit into God's plan and battle temptations. One of our group is a permanent deacon, but I'm sure even he will tell you the pull of the secular world makes life a challenge.
What do any of us know of holy?
A recent Mass selection from the Book of Sirach said, "A faithful friend is a sturdy shelter: He who finds one finds a treasure. A faithful friend is beyond price, no sum can balance his or her worth."
I think of the many weddings in which I have been a groomsman, for young men (then) with whom I spent many hours. We shared so much of our lives, our fears and dreams, laughter and tears. In our most important moments, we celebrated with each other. And if one of us calls upon the others to celebrate or mourn today, we will be together again.
I think of my closest friendships, those precious few people with whom I have shared my deepest joys and fears, dreams and emotions. Those precious few people have saved my life over and over again simply by being a friend.
Further in the Book of Sirach we are reminded that "a faithful friend is a life-saving remedy, such as he who fears God finds; for he who fears God behaves accordingly, and his friend will be like himself."
What do I know of holy?
Well, as it turns out, much more than I ever realized.