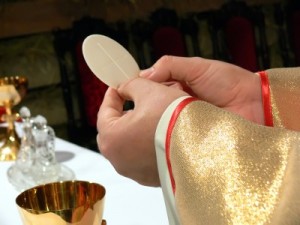 At some point in life each of us finds ourselves at a loss for what to say to God. It is usually at a time of intense trial.  The pain of disease, agony of loss, or sting of betrayal leaves us overwhelmed.  Our sadness and anger are so acute that we fell abandoned, as if God were a universe away.  How do we pray in those moments?  We look to the example of our Lord Jesus, who desires to draw us into his own prayer.
We can and should look to how Jesus prayed in his Passion (his words and use of the Psalms) … but I wouldn't necessarily begin there.  More than anything else we need God's nearness, we need to know that we dwell in his presence; and for that we should look to how Jesus prayed within the womb of Mary.
Our Lord's Prayer throughout his first 40 weeks on earth was completely wordless. From the nanosecond his soul and body came into existence, our Lord's entire humanity was oriented toward the Father. The writer of the Epistle to the Hebrews heard the prayer of Jesus' heart in Psalm 40:
When Christ came into the world, he said,
"Sacrifices and offerings thou hast not desired,
but a body hast thou prepared for me;
in burnt offerings and sin offerings thou hast taken no pleasure. Then I said, 'Lo, I have come to do thy will, O God,'as it is written of me in the roll of the book."
(Heb 10:5-7; Ps 40:6-8)
Simply by being, by existing as a child, Jesus was at prayer. It was the prayer of surrender, entrustment. Words were not needed.  In the heights of his soul, Jesus gazed upon the Father with all the clarity of the saints in heaven. He was "not engaged in the adult business of thinking at all." Rather, "in the earthly paradise of his Mother's body, he is resting and seeing and loving and praising the Father." [1]  And his prayer is available to us in our moments of need.  No, we do not have his direct vision of the God the Father, but we can gaze upon the God-Man in the Eucharist.
No matter how deep our pain and confusion, nor how distant we may feel from God, we objectively place ourselves in his presence when we visit him in the tabernacle.  When the Eucharist, the Lord's Body, is reserved in a Tabernacle or exposed to our eyes in a monstrance, we are allowed to kneel and gaze upon our brother Jesus … as He gazes upon the Father. There he is – just as he has been from all of eternity – surrendered to the Father in the Holy Spirit, and offering himself completely to us. St. Jean Marie Vianney once asked a parishioner what went through his mind as he sat in the church, day after day, staring up at the altar: "Nothing.  I am not much good at thinking, nor do I know many prayers.  So I just sit here, as you see, looking at God.  I look at him and he looks at me.  That is all."[2]  That is all?  What a reflection of Jesus' prayer in the womb of Mary!
When you don't have the words, put yourself in Jesus' presence and fasten your eyes upon him.  Be with him.  Open your arms to him and let his Holy Spirit, dwelling within you, "intercede with sighs too deep for words" (Rom 8:26).  Begin there.  In a short time your ability to speak will return and you will be able to make Jesus' prayer in Gethsamene your own (it's there in the Our Father).  You will be able to open your Bible and pray the psalms he did upon the Cross (Ps 22, 31, and 69), psalms that praise the Father for the resurrection to come, even amidst the pain.  But begin, like Jesus, by gazing upon the Lord.
This article was adapted from Shane Kapler's book, Through, With, and In Him: The Prayer Life of Jesus and How to Make It Our Own (Angelico Press, 2014).
[1] Saward, John, Redeemer in the Womb (San Francisco: Ignatius Press, 1993),  p.73.
[2] Lomask, Milton, The Cure of Ars: The Priest Who Outtalked the Devil, (New York: Vision Books, 1966),  p.151.