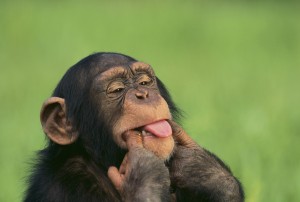 If Granny were living in a civilized country rather than one that is hell-bent on ending lives and calling it a "choice," there would be no need for such a provocative title. But this is America, friends, and many in our midst see things differently. Or maybe they just don't see at all.
It becomes clearer every day that if Granny were not a human being, her chances of being protected from evil acts designed to take her life would be far better. Allow me to explain.
In New York, Hercules and Leo have been given approval by a judge to defend their rights against those who want to use them in medical experiments and detain them against their will.
Who are Hercules and Leo? They are chimpanzees living at a NY university! The human beings involved with the Nonhuman Rights Project brought the chimps' case to the court's attention. As a result, Manhattan Supreme Court justice Barbara Jaffe "ordered Samuel Stanley Jr., the president of Stony Brook, to argue before the court why the chimpanzees were being 'unlawfully detained' at his university and should not be transferred to a primate sanctuary in Florida." Stony Brook, part of the State University of New York system, is not making a comment until the full case is heard in court.
But the point here is that these two animals are just that—animals! They are not human beings and yet their animal rights are about to be protected by law. Humans, on the other hand, are having a greater amount of difficulty acquiring defense of their human rights than ever before.
One of the reasons for this is the move toward legally protected physician-assisted suicide in every state in our nation. In February of this year, the pro-euthanasia group Compassion and Choices reported that 26 states in America were considering some type of law that would decriminalize assisted suicide.
In California, where an assisted suicide proposal is being hotly debated, one newspaper headline reads, "State Should OK End of Life Option Act." The Death with Dignity National Center, located in California, joined the celebration over this act being introduced, opining, "The Golden State has always been a leader in progressive policy reforms protecting individual rights."
Such organizations argue that they are striving to protect patients' "end of life autonomy," but as Saint John Paul II taught in The Splendor of Truth, "Man's genuine moral autonomy in no way means the rejection but rather the acceptance of the moral law. . . . Human freedom and God's law meet and are called to intersect, in the sense of man's free obedience to God and of God's completely gratuitous benevolence towards man."
Autonomy has nothing to do with the right to choose death for anyone, including one's self. And that is a fact.
So we have to ask how it is that the chimpanzees Hercules and Leo will have their day in court, but Granny can feel free to either exit on her own terms or wait for a doctor or nurse to authorize her death because she signed a form allowing others to make life and death decisions for her. Human beings are expendable; chimpanzees are not? Something is incredibly wrong with this picture.
Get involved! The life you save may well be your own.
Pray for moral sanity to be restored in our nation; pray for those at risk of imposed death from creation to death.
Learn what it means to make proper decisions for yourself and your loved ones, for nobody can avoid dying. We should all be prepared to go, but only when God calls us home.
Sign a Loving Will and make sure those you care about have taken this small step to ensure their safety when the end of life draws near.
Be a voice for those who cannot defend themselves.