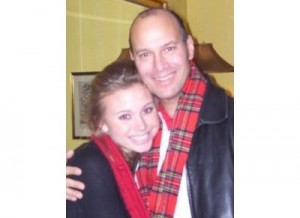 He's a business owner, a basketball player, a biography reader, and a nap lover. He grew up playing on his grandparents' farm and climbing fences in the backyards of Bexley, Ohio. As a young man, he worked his way through Harvard, eating 11-cent boxes of macaroni and cheese and mooching off tea sandwiches at business school luncheons. Today he's giving back by serving on a number of boards, committees, and councils. But of all the things he does, the job he loves most is being a husband and a father.
This priority places my father, sadly, into an increasingly small pool of men. David Blankenhorn's study "Fatherless America: Confronting Our Most Urgent Social Problem," pegs fatherlessness as the single most troublesome reality for my generation.
Yet my dad is an excellent dad. A father of three girls, he knows especially well how to care for and love little women. Starting when I was 5, and until I thought I was "too cool," he took me to father-daughter dinner dances — a "date night" for dads and daughters to dress up, eat fancy food, and rock out to oldies. He'd wear a nice suit and my mom would doll me up in a frilly dress, drowned by a massive bow atop my head. During these years, my dad would also tuck me in at night — he and my mom would each take a turn with me in my room. I always looked forward to him sitting on the edge of my bed and singing me a lullaby; I now smile to realize he made up the words on the spot.
As I reached my adolescent years, I especially needed my dad's affirmation and love in a new way. He taught me that I was precious — a princess. Any guy who did not treat me as such might rope me in for a short time at best, but ultimately got the boot. Though somewhat shy in my middle school years, I quickly grew in confidence and realization of my worth. Because I had the affection of my father, I was less hungry for attention from high school guys. I made my fair share of mistakes, to be sure; but the wounds were less deep and more apt to heal. Because my father bolstered my self-esteem, I knew I was worth waiting for, and worth fighting for.
My dad taught me in ways that no one else could. Only my father could offer a glimpse of the love of my heavenly Father. He led prayers before family meals and, after his conversion to the Catholicism, initiated family rosaries. He was the spiritual leader in our household, drawing our entire family back to the Catholic faith by his own fervor. Only he could give me an image of the type of man I would seek to marry one day: a model of the type of person who would kiss my children goodnight. He is an archetype of masculinity for my sisters and me.
No father is perfect, and I am far from a perfect daughter; but the fact that my father was present in my childhood, and intentional in that presence, made a world of difference for me. He exemplified sacrificial, Christ-like love by always putting his family first.
To all the fathers who read these words: thank you for your vocation! Thank you for your selfless love! In the words of Steve Wood, "Fathers leave an indelible impression on their children because their role as a father is linked to another fatherhood. Although this other fatherhood is unseen, every human heart has a deep, incessant desire to be joined with it."
Daddy, thank you for being an ever-present father in my life, and for pointing towards a greater Father still.
This article originally appeared on Fathers for Good and is used with permission.