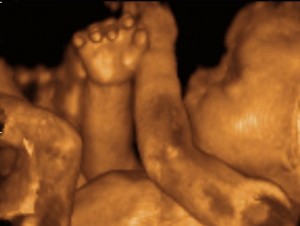 "Membership of the species Homo sapiens is not enough to confer a right to life."
To the ears of us ordinary people, it sounds like the ravings of some fringe group of European neo-fascists or Communists, but the man who made that statement in a Scottish newspaper today is perhaps the most acclaimed and respected ethical philosopher alive, toasted by liberal academic and political elites around the world.
Philosopher and Bioethicist Peter Singer defended abortion in an op-ed in the Scotsman last Wednesday.
"Opponents will respond that abortion is, by its very nature, unsafe – for the fetus," he wrote. "They point out that abortion kills a unique, living human individual. That claim is difficult to deny, at least if by 'human' we mean 'member of the species Homo sapiens."
Singer is among the cadre of leading thinkers who maintain that being a human being isn't enough to confer any legal rights. To be a "person," one must fulfill a particular set of criteria.
"It is also true that we cannot simply invoke a woman's 'right to choose' in order to avoid the ethical issue of the moral status of the fetus," Singer continued. "If the fetus really did have the moral status of any other human being, it would be difficult to argue that a pregnant woman's right to choose includes the right to bring about the death of the fetus, except perhaps when the woman's life is at stake.
"The fallacy in the anti-abortion argument lies in the shift from the scientifically accurate claim that the fetus is a living individual of the species Homo sapiens to the ethical claim that the fetus therefore has the same right to life as any other human being."
Contrary to how he sounds, Peter Singer is not some obscure crank, writing for a tiny audience of like-minded nutters. Probably most famous for being the "father" of the modern animal rights movement, he is also widely regarded as the most influential bioethicist in the world. And his positions as the Ira W. DeCamp Professor of Bioethics at the University Center for Human Values at Princeton University, and a Laureate Professor at the Centre for Applied Philosophy and Public Ethics at the University of Melbourne, are as good an indicator as any to start to appreciate just how far into the Upsidedownland Matrix academia and the world of bioethics has gone.
Even as one of the most famous professional philosophers in the world, Singer's ideas continue to shock pro-life people with his forthright defense of infanticide, the wholesale killing of people with dementia, the sexual use of animals, (whom he maintains are capable of "consent"), and the use of the cognitively disabled for medical experiments.
As a bioethicist, Singer swats aside outdated concepts like "mercy killing" to end the suffering of the patient, arguing instead that it is the suffering of the patient's family, friends, and of society as a whole that is more important. Suffering patients cost society money to keep alive and comfortable; they demand extra care and time that diminishes the freedom and autonomy of their caregivers.
Singer is renowned for carrying the logic of classical Utilitarianism to its furthest extreme. Utilitarianism, the philosophy developed in England in the 18th century by Jeremy Bentham and John Stuart Mill, proposes that all human action must be ordered to producing "happiness" and reducing suffering. That might sound fine on the surface, but in practice it means that the moral worth of any action is determined only by its resulting outcome, not by whether it is good or evil in itself. This means that killing would not be evil in itself, but only when it brings "unhappiness" into the world.
Singer's extreme form of "preference utilitarianism" proposes that human life has no inherent value. Therefore, killing a patient out of mercy is a purely mathematical consideration, one that prioritizes the reduction of the overall quantity of suffering in the world, tipping the global scales towards "happiness." He and those who follow his theories, posit a kind of invisible cloud of suffering, like a layer of pollution, covering the world that must be reduced. And the most convenient way to do that is simply to remove those who suffer.
To justify this, Singer has developed the idea that only those with a certain level of cognitive function can be considered "persons," which idea he expanded to propose that any creature with higher presumptive cognitive functions than the bare minimum were also persons, including great apes, dogs, and dolphins.
"We can plausibly argue," he wrote in the Scotsman, "that we ought not to kill, against their will, self-aware beings who want to continue to live. We can see this as a violation of their autonomy, or a thwarting of their preferences. But why should a being's potential to become rationally self-aware make it wrong to end its life before it has the capacity for rationality or self-awareness?"
The one group that does not qualify for personhood in Singer's world are newborn humans and brain damaged people of any age. These, he says, ought to have "personhood" legally bestowed upon them only after the approval of their parents or caregivers. Parents, he believes, should be given a month or so to decide if they want to keep their child, and only then should it have the protection of the law.
"We have no obligation to allow every being with the potential to become a rational being to realize that potential," he argued in today's piece.
"If it comes to a clash between the supposed interests of potentially rational but not yet conscious beings and the vital interests of actually rational women, we should give preference to the women every time," he wrote.
What the Scotsman declines to mention is that Singer is possibly the most read, most listened-to, and most followed thinker of our times. So ubiquitous are his ideas in academia, government, and most prominent medical ethicists throughout the Western world that most people parroting them often have no idea they are following him.
A conversation comes to mind that I had many years ago over the internet with a man running for public office in the eastern Canadian province of Nova Scotia. This man, a Unitarian minister, regarded himself as driven by his high ethical ideals. He was telling me in all earnestness that the real political task was to increase the general quantity of human happiness in the world. An unborn infant, he said, was not capable of being truly happy, because it didn't have the cognitive ability to appreciate its surroundings. Therefore, the rights of the mother to her full measure of happiness must take precedence.
He was somewhat horrified when I countered that as a good disciple of Peter Singer he ought to be taking the argument a step forward and offering to include infanticide on demand in Nova Scotia's public medical insurance coverage. After I explained who Singer was, he was shocked that such a wicked man could have become so influential.
Many people believe that philosophy is nothing more than a kind of academic playpen for tenured eggheads and unmotivated undergraduates. But philosophy is the foundation of our societies, how we decide what is and is not worth doing as individuals and as a civilization, what is and is not morally acceptable. Over the last few centuries, there has been a slow but massive shift, mostly unknown to us ordinary folks outside the ivy-covered walls, away from traditional Judeo-Christian ethics to these new, Enlightenment-era principles.
Philosophy and culture are inextricably connected, but it is usually only when a man like Peter Singer writes his ideas out loud in a daily newspaper that the general public starts to become aware of the origins of our current cultural sickness. But these new ideas have slowly grown their poisoned tendrils into every corner of human endeavor and strangled the basic notions upon which our civilization was built.
A lot of pro-life people got involved because of a single legal change, something that shocked and horrified them, the legalization of abortion or euthanasia. But it is crucial for pro-life people to understand the bigger picture, that the thing we are fighting is bigger than a single incident, or a single issue.
It is not about overturning Roe v. Wade or the Abortion Act 1967. It is about defeating an entire new philosophical culture, a system of thought governing all human action. This new set of ideas has created the abortionist and pansexualist regime we are fighting in the pro-life movement. The sexual revolution did not spring out of nothing in 1965.