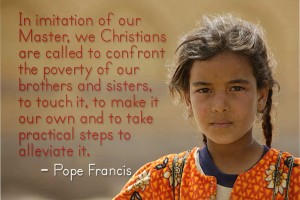 When I left my corporate job in California to enter the convent I had to tell my boss I was planning on leaving at the same time he was handing me an offer for a substantial raise. It was a difficult moment. I felt bad for my boss but I was also keenly aware that I looked insane to everyone around me, including myself sometimes. I remember looking at the offer, the stock options, the job title and thinking to myself, "I might never have this chance again."
It's hard to let go of money for God.
Philip Seymour Hoffman's decision to not set up trust funds for his children and instead leave all of his money to his partner, and the mother of his children, Mimi O'Donnell, was probably not an explicit decision for God but it is a decision that seems to have been based in Gospel values. Bill and Melinda Gates have made a similar decision not to shower their children with riches after their death. Their decisions proclaim to a money-obsessed world that life is not all about money.
Contrast that with statements made by rapper and businessman Kanye West about providing for his daughter North West. Kanye argues that he needs more money to provide for North. He says, "She is in the position of a level of royalty like the princes and princess out in London but they got more paper, they got heritage." In other words, Kanye is not only interested in providing for the basic needs of his daughter, he wants to set her up with enough to maintain the lifestyle of a celebrity princess.
We all have a little bit of Kanye in us. I think it is deeply ingrained in human nature to cling to security, to idolize material things, to "store up treasure" for ourselves. We want to be self-reliant. If we do not have money we might have to rely on God so we keep collecting, even when we are well beyond what we really need.
We can do this even with very little. I have gone from making several thousand dollars a month to receiving a very small amount of money per month in the convent for "extras." I could brag that I have given up everything for God and now have very little but I know that I cling even to that paltry little allowance. I am still clamoring to store up my treasures, even when it amounts to next to nothing.
As I sit in my comfortable room typing on my computer feeling the cool air of a fan, I think about the Christians in Mosul, Iraq who have been forced to leave their homes with absolutely nothing. What little they tried to carry with them out of the city was stolen by ISIS, the radical Islamic jihadist group which has taken over the region. With the clothes on their backs these Christians have walked away from their houses, their jobs, their friends, and all their possessions.
There is not much we can do for our fellow Christian in this predicament. Perhaps that is what makes it so frustrating, so tragic. Elizabeth Scalia has outlined some great practical and spiritual ideas. I recommend all of them. But one thing I feel particularly called to do is to reevaluate my own life in light of the suffering around me.
Pope Francis urges us: "In imitation of our Master, we Christians are called to confront the poverty of our brothers and sisters, to touch it, to make it our own and to take practical steps to alleviate it."
Some questions we can ask ourselves:
Am I living my life in idolatry of comfort, money or myself in any way? 

Do I "store up treasure" by purchasing and saving more than I really need?
Am I making sacrifices, not because I have to, not because I am forced to by circumstance, but because I want to live in solidarity with those who have no choice?
Am I offering up my difficulties in life for the great hardships that my fellow Christians and the entire people of Iraq and those suffering around the world are facing?

Can I think of small steps, or big steps, that I can take to live my life more in union with the poor of the world and the poor Christ?
United with you in prayer for our brothers and sisters.