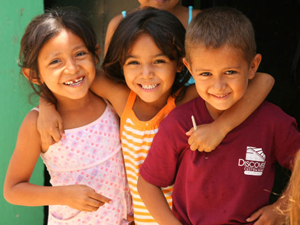 "Do you know any songs?" I asked my nearly 3-year-old granddaughter as the two us walked hand-in-hand to a nearby store.
"Uh huh," she answered.
So I started "Itsy Bitsy Spider" and she joined in, shouting out the next word whenever I paused.
Hmmm . . . "Father, Son, Holy Spirit," I said, and she smiled. "Father . . . "
"Son!"
"Holy . . . "
"Spirit!"
"Amen."
"Amen!"
We shared that prayer a few more times and then I launched into an explanation of the Trinity and the history of the doxology.
Yeah, right!
What we did next was sing a few rounds about a farmer who had a dog named B-I-N-G-O.
There's something about making the ABCs of the Catholic faith a part of an ordinary walk on an ordinary morning because — despite its being so extraordinary — the practice of the faith belongs in the ordinary. Between the little spider and the farmer's dog, there is God. Because there is a God, there are spiders and dogs and granddaughters and grandpas.
Because there is God, there is love.
"Religious education" can sound intimidating and far worse is "catechesis." Neither term came to mind as I washed some dishes in the sink and my 6-year-old grandson wandered into the kitchen. He's used to the fact I tend to whistle, hum or sing absentmindedly, unaware I'm making any noise at all.
"I know that song!" he said, interrupting me mid-whistle. "We have it at church."
Hmmm . . .  I wasn't aware of what I was whistling. Since I presumed his parish Mass didn't feature anything by Creedence Clearwater Revival or show tunes, then it was . . . Of course. "O Come, O Come Emmanuel."
My grandson was pleased he recognized the melody. I was happy he was going someplace where it was sung – religiously.
That's part of the ABCs, too. We leave Mass, we're sent, but we take something with us. And we share it. That Advent song — whistled in a kitchen — led easily to a short conversation about Mass, Advent and . . . naturally . . . Christmas.
But, of course, how a grandparent shares the faith changes as grandkids get older, and their questions get tougher. The simple — preschool — explanation, while always true, just doesn't satisfy the teen or adult. And it shouldn't.
A few points to consider:
1.Your little grandchildren are like sponges, ready to soak up Catholicism as a part of everyday life if it's visibly a part of your everyday life.
2. Grade-schoolers have figured out the tooth fairy and trolls don't exist and so, naturally, wonder about God, angels, sacraments, saints and much, much more. Were all these also only tall tales for wee ones? Talking with them  about the faith can help them, for example, separate the Easter bunny from the reality of the Resurrection.
3. Teens and adults, God bless them, have tough questions about the Church. And they should. Many of the hows and whys can be answered. Thank God for the Catechism of the Catholic Church, the Knights of Columbus Catholic Information Service, and other reliable sources!
4. At any age, at every age, your grandkids need to know you're praying for them. And that you deeply appreciate their praying for you!