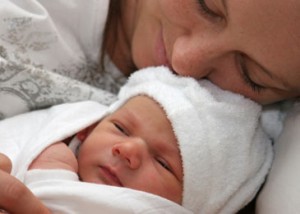 She was 19 years old. Still in college. Had a job, though not yet a career. Still living at home with her parents.
She was young and beautiful and intelligent and fun – and in love. She and her fiance planned to be married in about nine months, and they were deep into plans for the wedding. And it was going to be a grand wedding!
He had a job – a good job, the kind of career he always had wanted. The hours were long, but he was happy. They were happy. Together, they looked ahead and thought everything was just right.
Then, she started feeling, well, different. Not right. Her energy level was noticeably off. There were little things that made the couple really concerned. So she went to the doctor, a kindly man who had been seeing her since she was very young. More than a little afraid of what they might hear, he went with her.
She was pregnant.
At first, they thanked God. Both of them had feared something dreadful. He felt so very relieved that it wasn't cancer or any of the other scary things that had crossed his mind. Alas, she was just pregnant …
Hold on. She was … pregnant?!
So much for thinking everything was "just right." They were dedicated Catholics, at Mass every Sunday, and participated in leading retreats that helped deepen the faith of fellow young people. How would the news look in the eyes of those young people? And their priest? And their friends and siblings? And … oh my goodness … how would they tell their parents?
Telling all those people proved difficult, heart-wrenching. They had to summon some courage. There were plenty of tears. Life was about to get very different – for the mom-to-be, the dad-to-be and their respective families. All of those plans of her finishing school, moving into the working world and then starting a family? Gone.
Of course, it didn't really have to be gone. Abortion had been legal in the United States for more than 10 years. They could have decided a pregnancy simply didn't fit into their life plans, their dream life. She still was in her teens. They weren't sure they were ready for this development. Financially, emotionally … so much to consider.
But it didn't take long to realize something very important: They were going to have a baby! A new life would be entering the world, their world. The grandparents-to-be, aunts and uncles to be, friends – all might have had some reservations about their readiness for parenthood. Heck, they hadn't even had a chance to get used to marriage.
A baby, though. A person. A real person.
Never once – not for even a nanosecond – did they consider any choice but life.
*** *** *** *** ***
My wife, Donna, spent a few days in Washington, D.C., last week. She led a group of more than 40 people from Holy Spirit Catholic Church (in Maryland Heights, Mo.) and Sts. Joachim and Ann Catholic Church (in St. Peters, Mo.). They attended Mass on Wednesday (January 21) at Holy Spirit, then boarded a bus and made the trip overnight. The group arrived just in time to join the annual pro-life March For Life with several hundred thousand people. Most of Donna's group was under the age of 18. She has organized and participated in about a dozen such pilgrimages during the last 15 or so years.
This year's march – held the afternoon of January 22 – marked the 42nd anniversary of the Supreme Court's Roe vs. Wade decision that legalized abortion. Millions of innocent lives have been taken before they even had a chance to cry outside the womb.
I'm not going to get into the political fray of what has been one of the most divisive topics in America for more than four decades. There are passionate people on each side. I believe, in my heart, that most of that passion comes because all of those people truly feel they have the best interests of someone in a crisis as their motivating factor.
I don't want to see countless women go "underground" for possibly unsafe and illegal abortions if Roe v. Wade was overturned some day or if the momentum of pro-life legislation continues in individual states. As a country, we would have to educate women on the "fact of life" for a baby still in the womb. We would have to work to lift people out of poverty and eliminate that excuse for abortions.
We would have to prove that we don't care about babies only before they are born but afterward as well. We would have to facilitate adoptions. We would have to come to grips with human rights violations – not just in other countries, but here as well. We would have to take more seriously the immigration of children from countries where they could face abuse or being forced into drug gangs. We would have to address inner-city murder and poor education systems in a more focused, determined way. We would have to become a country that values the dignity of all life.
Abortion never should be considered the only pro-life issue.
But it arguably is the one that needs to be some of our most urgent attention. There are dire consequences. Young lives that never begin. Women and men who deal with the psychological trauma, in some cases for the rest of their lives.
I'm proud of what Donna has done the last decade and a half. Granted, the Supreme Court hasn't changed the law of the land. I just think of all the young people she has shepherded to that March, though. Their hearts and lives have been affected. The day might come when one of those young women and men will face a pregnancy before their lives are prepared, interrupting what felt like "everything being right."
Change has happened.
*** *** *** *** ***
The young woman and man had a hurriedly planned but beautiful wedding. Five months later, their first child was born. A girl. That baby couldn't have been more loved. She grew up in a home where that love blossomed. Yes, there were occasional financial and health difficulties for the family. There were unexpected stresses.
There also was a constant reminder that God was in charge, that love ruled.
That girl met some unexpected struggles herself. Though she was past her teen years when it happened, she became pregnant before she was married – before she and her boyfriend had even set serious plans for marriage. An unplanned, unwed pregnancy. We all know how those situations end up for thousands of women – for millions of women since Jan. 22, 1973.
But she was going to have a baby!
Never was abortion a consideration for her. Not for even one moment.