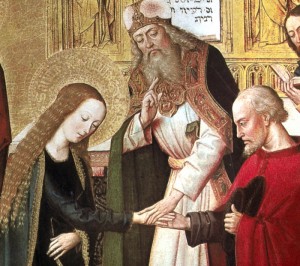 The current crisis in marriage and family life arises from "a cult of momentary well-being," stated Cardinal Peter Erdö, the relator general of the 2014 Synod of the Family. In his opening speech, one which traditionally sets the tone for the whole synod, the Cardinal emphasized that "many look upon their lives not as a life-long endeavour but a series of moments in which great value is placed on feeling good … . The future appears threatening, because it may happen that in the future we will feel worse."
This view of the current marriage crisis is shared by Maggie Gallagher, founder of the National Organization for Marriage and the Institute for Marriage and Public Policy. "Too many of us no longer believe it is possible to make a lifetime vow of love and live up to it," so we become trapped in "alienation from our deepest longings," she explained.
This widespread emotional and spiritual malaise can only be overcome by a "truth cure," that is, the joyful good news of sacramental marriage, according to Cardinal Erdö. The main ingredients of this truth cure, he remarked, involve cooperation between bishops and priests, laypeople, Church juridical structures, and social institutions. Bishops and priests need clearer directions, laypeople need better education in the faith, annulment procedures need reform, and governments need better policies. To reverse the decline in stable, life-long commitment, everyone needs to work together.
Clear Direction to Pastors
In light of ongoing disputes in the Church over how to treat cohabiting couples, same-sex couples and their children, and the divorced and civilly remarried, it comes as a relief to hear that the Synod hopes to offer "clear guidelines" to bishops and pastors on how "to help those living in difficult situations," as Cardinal Erdö announced. "It is unrealistic to expect that by themselves" the bishops will find the right solutions, he continued. Above all, local pastors must avoid "the improvisations of a 'do-it-yourself ministry' which ends in making the acceptance of the Gospel of the Family more difficult," he said.
The Cardinal cautioned that the Church must offer truth tempered with mercy, rather than a superficial form of tolerance that hides "a basic indifference and inability to be attentive." The Church should combat error and "affirm the indispensable value of the truths of the indissolubility of marriage," but with "recourse to the medicine of mercy rather than … the weapons of rigidity," he noted.
Although specific Church teachings on marriage and family are not well-known, "this does not mean that the teaching, in principle, is put in doubt." Therefore, "what is being discussed at this synod of an intense pastoral nature are not doctrinal issues, but the practical ones," he said. This further insistence by Synod leaders that doctrinal issues are not up for grabs will, one hopes, silence those who are clamoring for impossible and impractical doctrinal changes.
Better Marriage Preparation
As cultural conditions have degenerated to the point where pro-marriage messages are rarely heard and barely understood, the burden has fallen increasingly on the Church to showcase the goodness of married and family life. Marriage preparation, or "pre-Cana" programs, are an essential way to spread that message, and the cardinal's opening speech focused strongly on them. Cardinal Erdö stressed that the primary tasks of pre-Cana programs are to "show the value and attractiveness of a life-long bond" and help engaged couples "conquer their legitimate fears" about their emotional and financial security.
"The number one burden" that engaged couples bring into a pre-Cana program "is fear," in the experience of Marga Regina, Marriage Preparation Coordinator for the Archdiocese of New York. "The fear of divorce is tremendous," she stated, noting that some cohabiting engaged couples might have already experienced the breakdown of multiple previous cohabiting relationships.
Marriage preparation instructors welcome the emphasis that the Synod has so far placed on their programs, and they have well-thought-out ideas for how to accomplish the goals the Synod has announced.
Deacon Scott Dodge, of the Cathedral of the Madeleine in Salt Lake City, Utah, believes that first of all, "it is crucial to have married couples prepare couples for marriage." Regina agreed that engaged couples often admit that they don't have a good example of marriage to follow, so "they like to see a married couple witnessing to the faith." The importance of this type of everyday witness will take center stage at this year's Synod on the Family, where the bishops and cardinals will begin each day of discussion listening to a short presentation from a married couple.
Marriage preparation by lay couples needs to present an authentic picture of "the good, the bad, and the ugly" of married life, maintains Deacon Dodge. "Staying married is a huge challenge for virtually every couple," and there is "no need for unrealistic, overly idealistic, witness." Married couples should share how God's grace through the Sacrament of Matrimony has helped them to persevere through their inevitable struggles.
Second, Church teachings on sexuality and contraception should be central. Most engaged couples have no idea "what does it mean to be open … to children, what does it mean to be male and female," stated Regina. "Women are afraid the idea of the feminine will bind and constrain them. Men are growing up with fewer and fewer images of and incentives for civilized masculinity," agreed marriage policy expert Gallagher.
Cardinal Erdö stated that the Church needs to re-promulgate the positive message of Humanae Vitae, the 1968 papal encyclical which, while praising the married couple's mission of love and fertility, prohibited the use of artificial contraception.
Unfortunately, marriage prep is often "the last rung on the ladder" of a religious education that should have begun in childhood, according to Regina. "Children must grow up with an appreciation … for their masculinity and femininity, seeing it as a great gift, as a talent to be multiplied," concurred Deacon Dodge. Instruction in Natural Family Planning is also crucial to teach couples about the gift of their fertility, he maintained.
Regina stressed that, as a third essential element of marriage preparation, engaged couples should have the opportunity to go to Confession while attending their pre-Cana program. She added that programs in the Archdiocese of New York routinely make the sacrament available to couples. People are "very open to the whole notion of healing" that comes through the Sacrament of Reconciliation, she observed. "When you talk to where their wounds are, that's when they begin to trust," she said. "The very thing you don't want to talk about … is the very thing Jesus says 'give it to me, and I'll heal it,'" she added. The graces of Confession and of sacramental marriage can set us free "to love authentically and be loved authentically," she said, and "we all want" that.
Reform of Annulment Procedures
It seems clear from Cardinal Erdö's opening speech that annulment reforms will occupy a great deal of discussion at the Synod. In addition to reiterating several of the reforms already proposed, the Cardinal also suggested that "in each particular Church, at least one duly prepared priest is needed, who can offer counsel, without charge, as a first step for parties in ascertaining the validity of their marriage."
Aldean Hendrickson, Director of the Diocesan Marriage Tribunal of New Ulm, Minnesota, enthusiastically welcomed this proposal. Tribunal staff, he explained, "spend much time in back and forth" trying to explain the annulment process and how it might apply to a couple's particular situation. "A single trained point of entry … could well ultimately lead to a more efficient start to cases," he noted.
On the other hand, many tribunals already have advocates to assist people requesting an annulment. "Why would such an office require priestly ordination?" wondered Anthony St. Louis-Sanchez, judge of the Diocesan Marriage Tribunal of Colorado Springs. "It sends the message that the Church is taking this duty seriously. But otherwise, it seems to be reinventing the wheel. Priests do not receive this kind of training in the seminary. …In the end, this office would seem to be the same thing we already have, just repackaged," St. Louis-Sanchez concluded.
The success of any reforms will depend mostly on the people implementing them. Tribunal Director Hendrickson pointed out that, "the marriage nullity process has been set up to fail by many tribunals, some of which cut corners or ignore portions of the process as it is carefully prescribed in canon law, and others, at the other extreme, that focus on the finest minutiae of the procedural law but seem blind to the human beings whose lives are represented on the pages of the case file."
Tribunals should instead learn to balance, "careful observation of the procedural norms," and, "loving pastoral care of the people," never forgetting, "the inevitable third party in every case implied: the spouse from the first marriage."
These first spouses, "are not seeing anything in the current coverage of the Synod that indicates that the Church is concerned for them and their plight. So I am increasingly concerned by every proposal to make the annulment process any more 'pastoral' until it is clearly looking out for the spiritual interests of ALL parties involved, not just those who are eager to move on with their lives," Hendrickson added.
Improved Governmental Policies
Although better marriage preparation and streamlined annulment procedures may help, the Church alone can't solve the crisis in marriage and family life, because it is a societal problem influenced by external pressures. "With regard to external pressures, increasing job insecurity is a nightmare for many families; migration often creates large imbalances in the family," Cardinal Erdö pointed out.
The Church cannot offer adequate support for families "without a pro-active commitment through appropriate policies by governments and public agencies responsible for the protection and promotion of the common good," he continued. In particular, caring for people from conception to natural death "requires … creating, at the institutional level, the conditions which make this care possible." The Cardinal warned against the "privatization of love," a phenomenon in which "the Western world risks making the family a reality entrusted exclusively to the choices of the individual, totally detached from a regulatory and institutional framework."
According to Ms. Gallagher, though, "the Church should avoid becoming just another voice on political policy … because it diverts our time, energy and commitment away from things we can and should do." If we blame or shift responsibility to institutions outside of our control, "it leads to lethargy and inaction," she added.
With regard to the "privatization of love," Gallagher agreed that "we have a much reduced sense of the centrality of marriage to children and society." But on a political level, "we have 'publicized' not privatized love in America and Europe in the sense that the government is now involved in regulating and supporting (and interfering with) families in strikingly extensive ways," she noted. Ultimately, the Church needs to do the best it can within the governmental and societal framework in which it exists. We all hope that the Synod on the Family can help show us the way how.
*Editor Note:  This article originally appeared at Aleteia and is reprinted with permission of the author.