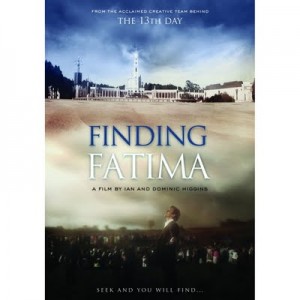 Great new DVD from the makers of The 13th Day, Finding Fatima is shot in the same Bresson-esque and super-stylized way as The 13th Day. While hearkening to and honoring filmmaking's past, the Brothers Higgins are simultaneously bringing the story and message of Fatima to a new generation.
As much as I love watching documentaries, I was just going to give this a quick perusal, but I got hooked and couldn't stop watching.
I thought I knew a lot about Fatima — it's my favorite Marian apparation, and I've been reading books and watching films about Fatima since I was a teenager — but I learned a ton from Finding Fatima. Finding Fatima could be called "Fatima Then and Now," because it brings us up to speed on the Fatima story as it continues to unfold in our present day.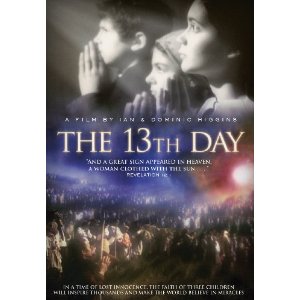 The Higgins Brothers use clips from their The 13th Day for the re-enactments, as we get to know the personalities of the three visionary children in depth. This documentary is chock-full of fascinating, down-to-earth interviews and historical footage, all presented in a spritely way. There's not a dull moment in this life- and joy-filled documentary, even with its more sombre sepia-toned visual edges! Innovative without being novel or gimmicky, Finding Fatima has a 21st-century feel to it.
One thing that Finding Fatima brings out that — surprisingly — often gets lost in the shuffle of the more sensational miracles/wars/secrets aspects of Fatima is the fact that Mary's visits were also intended to spread devotion to her Immaculate Heart. Mary stated that Jesus wanted to triumph through her Immaculate Heart. She even showed her heart, encircled with thorns to the children at one point.
The pacing is perfect, the interview clips are kept short and the interviewees even sort of "dialogue" with each other! The soundtrack is as mottled as the bordering-on-dreamy palette of colors the film is shot in. Perhaps Ian and Dominic Higgins are onto something new: "transcendent filmmaking." Although all filmmaking should have the quality of the transcendent,* what if your film really is about the real Queen of heaven and earth? Finding Fatima is a template of how you might want to proceed.
Subtitles also in SPANISH.
___
*"Art must make perceptible, and as far as possible attractive, the world of the spirit, of the invisible, of God. It must therefore translate into meaningful terms that which is in itself ineffable. Art has a unique capacity to take one or other facet of the message and translate it into colors, shapes and sounds which nourish the intuition of those who look or listen. It does so without emptying the message itself of its transcendent value and its aura of mystery."
–Blessed John Paul II the Great, #12 "Letter to Artists"