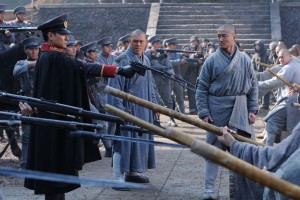 Like many of my generation, my knowledge of Kung Fu and Shaolin priests was formed almost entirely by David Carradine's portrayal of Kwai Chang Caine in the iconic television series "Kung Fu," which aired 1972-1975. Caine was so cool.  He made self-control look attractive.  As a biracial fugitive in the American West, Caine tried to stay out of trouble, but trouble always found him. 
His penchant for righting wrongs often landed him in hot water, but his cool head and his mastery of the art of Kung Fu came in handy as he subdued outlaws and troublemakers. As a ten-year-old, I found in this character much to admire: strength, patience, courage, self-sacrifice. In a sense, he was my hero. I wanted to be like that too.
Fast forward forty years to the 2011 New York Asian Film Festival.  I revisited Zen Bhuddism as presented by producer/director Benny Chan in Shaolin. Fans of martial arts films will love this latest release.  Chan has collected a sparkling cast: the very watchable Andy Lau, Nicholas Tse, Wu Jing, Xing Yu, the delicately beautiful Fan Bingbing, and the much-loved martial arts film veteran Jackie Chan. Part of his $30.5 million budget was spent to build the film's own "Shaolin Temple" in Zhejiang province at a cost of $1.47 million. The production values are excellent, and if you want to watch endless sequences of chopping, kicking, rolling, shooting, flipping, and stabbing, look no further. There's no shortage of martial arts action (and garden-variety violence) in this film.
Shaolin takes place during the Warlord Era, after the fall of the Qing Dynasty in the early 20th century. As feuding warlords fight to expand their power, the noble monks of the Shaolin temple stoically clean up the mess left behind, tending to the injured, burying and cremating the dead, and trying their best to protect civilians. General Hou Jie (Lau) is in part responsible for this mess, as he ruthlessly cuts a swath through the countryside, indiscriminately slaughtering both soldiers and civilians. But when Hou's attempt to assassinate a rival general goes horribly wrong, leading to the loss of his own wife and child, the shattered general takes refuge in the legendary Shaolin Temple in search of peace.
Of course, Hou has made enemies who are not content to let him simply retreat. War follows him to the temple, where the monks, trained in Kung Fu, fight fiercely to protect their temple, their way of life, and the refugees who have also taken shelter there.
The film's narrative focuses squarely on Hou, who finds not only peace but also purification through martial Zen. Though the younger monks had been against allowing him to enter the Temple, lest his sinfulness and hatred should sully it, the Abbot allows him to remain. Hou realizes that in order to find peace he must not only release his anger, but every emotion and every attachment. Though the movie doesn't name this concept, it is called "nirvana": the extinction of all desires, and in fact the extinction of personal identity. He must repent of all passion. And because he has led others into evil, he is bound to help them repent as well.
In Shaolin, this leads to a spectacular climactic final confrontation in which Hou gives his life to save a former enemy. "Evil is born from the heart," urges Hou.  "Repent!"
Such self-sacrifice is indeed heroic. Viewers will be moved, perhaps inspired. Repentance is a sound Biblical idea as well. However, believers watching Shaolin should be aware that the Buddhist concept of repentance differs from Biblical repentance. According to Buddhist teachings, Hou is working out his karma. Buddhanet.net explains: "In this world nothing happens to a person that he does not for some reason or other deserve."
Hou deserves to suffer because he has led a life full of greed, hatred and lust. Buddhanet.net states: "It is this doctrine of Karma that gives consolation, hope, reliance and moral courage to a Buddhist. When the unexpected happens, and he meets with difficulties, failures, and misfortune, the Buddhist realizes that he is reaping what he has sown, and he is wiping off a past debt. Instead of resigning himself, leaving everything to Karma, he makes a strenuous effort to pull the weeds and sow useful seeds in their place, for the future is in his own hands."
By contrast, the Bible teaches that there is a God who loves humans and is offended by sin, and that sin can only be atoned for with blood — the blood of a perfect, sinless sacrifice. Repentance, then, is not a mere turning from greed, hatred and lust, but a turning toward God. The Christian turns from evil desires, not from all passions. He turns his desire to God: his Creator, Father and Provider, with whom he enters into a personal relationship.
The monks repeatedly urge Hou to release his hatred and anger. By releasing all passion, the Buddhist hopes to achieve nirvana. Nirvana literally means "blowing out"— referring, in the Buddhist context, to the blowing out of the fires of greed, hatred, and delusion. The believer seeks not nirvana, but resurrection, the New Heavens and the New Earth. The Christian believer turns from delusion and seeks truth in Jesus Christ.
Shaolin is a well-made movie, beautiful in its way, and at times emotionally compelling. As such, it may draw the uneducated towards an unbiblical worldview. If this film becomes popular, it could give Buddhism a boost much as "Kung Fu" helped make Buddhism cool in the 1970's. This would be no surprise to the monks at the real Shaolin Temple in Tengfeng, Henan, China. Some cast members received specialized training in Shaolin Kung Fu from Reverend Yongzhi, a real Shaolin master who until this movie has never taught outside of the Temple.
Reverend Yongzhi decided to train the actors in this film in order to promote Shaolin. "I hope this new Shaolin film will propagate the real meaning of Shaolin martial arts," he says. "Shaolin Kung Fu is not simply about fighting, it also encompasses autogenous, understanding of Self. This is the meaning of Zen and martial arts as one."
By God's grace, I grew up and learned the dissimilarity between the teachings of Siddhartha Gautama and those of Jesus Christ, my new hero, who "gave Himself for us to redeem us from every lawless deed, and to purify for Himself a people for His own possession, zealous for good deeds." (Titus 2:14) Because my debt of sin has been wiped out already, I can focus on doing good deeds simply because I am grateful.  There is a vast difference between doing good in order to gain good karma, and doing good in order to please God.  Christians watching this movie will, it is hoped, recognize that crucial cart-and-horse difference.
The teachings of Christianity and Buddha are in agreement on this point: that it is the motives of the heart that make a person what he or she truly is.
While mature believers may walk away from this film encouraged to turn from evil and to assist others in their repentance, all should be aware that this lavish movie presents an attractively idealized version of Zen Buddhism which may appeal to young men who are looking for the sort of spirituality which includes impressive displays of awesome martial arts skills.