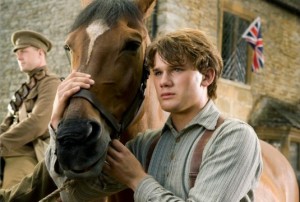 Baby seals, puppies and horses all seem to have a universal ability to tug at people's heartstrings. It's just something about how we're made, and Steven Spielberg's War Horse doesn't disappoint in that department. This film takes you on an emotional ride from the opening scene, the birth of a horse in rural England, right through to its conclusion. The movie is an adaptation of a 1982 children's novel by Michael Morpurgo, and a 2007 stage adaptation of the same name.
Set in the bucolic countryside of Devon, England in 1914, the story commences with the birth of a hearty thoroughbred foal, with young Albert Narracott (played by newcomer and soon to be heartthrob Jeremy Irvine) looking on. Albert is drawn immediately to the horse and watches closely as the colt grows up, running through the fields at its mother's side. This opening sequence is breathtaking, with its lush green countryside, old stone fences and spectacular shots of the open sky.
When it comes time for the horse's owner to sell him at auction, Albert's father, Ted (Peter Mullan) gets caught up in a bidding war for the horse against his own landlord and eventually pays the outrageous price of 30 guineas for him. This infuriates Ted's wife when she learns of it, because now they won't be able to pay their rent. But when Albert sees his father leading the horse to their farm, he is overjoyed.
Albert names the colt Joey and takes on the task of training the horse himself. Albert also teaches Joey to wear a yoke to plow a rocky field. These skills will save Joey's life later on in the film. This subplot, of a young boy and his horse coming of age together, can be used as a jumping off point for parents to discuss issues with their own teens that the movie deals with, such as taking on challenges, handling disappointment and overcoming loss.
Despite having planted extra acreage with turnips to try and recoup the money spent to buy Joey, when the Narracott's landlord comes for the rent, they don't have enough to pay it. Ted sells Joey to the British military to avoid losing the farm, and while training for battle, Joey befriends another war horse named Topthorn. Joey, Topthorn and their owners are then is shipped off to France at the beginning of World War I.
The rest of the film tells the story of the hardships of war that Joey faces, as well as the people who befriend him along the way. In 1918, Albert and some of the other young men from his village join in the war effort. The story of how Albert and his beloved Joey are eventually reunited is something you'll have to watch for yourself.
War Horse is a feast for the eyes. In fact, the landscape in this film is intended to be one of the characters. The farmstead where the Narracott family scratch out their living looks something like the hobbits' Shire in the Lord of the Rings, but Devon is a real place in England. Even many of the war scenes, though intense and at times violent, take place in a powerfully beautiful landscape.
This film does an excellent job contrasting the quiet, humble existence of simple, country folk living their day to day lives, with the gruesome horrors of war—both visually and in the story line. War Horse also shows the great contrast between the excitement and positive energy that often exists as families prepare to send their beloved men off to war and what war it is really like once the fighting and death begin. And like Black Beauty, the classic horse tale penned nearly one hundred years before this story, War Horse is primarily told through the viewpoint of the horse, Joey.
Most people probably give little thought to the fact that horses were used during war throughout history. But right up through World War I, horses were used to pull heavy artillery and ambulances, and were also used for cavalry charges during battle. This movie shows how hard these beautiful animals worked and the great suffering and death that even they endured in war. It also shows viewers the important role horses played during wartime right up until modern weaponry made cavalry charges obsolete.
Parents, be aware that as a PG-13 movie there is some cussing, some drinking and a few instances of smoking in this movie. There are also a number of violent and troubling scenes that may be too much for young, sensitive teens such as the graphic scenes of war and battle. One scene that I found particularly disturbing for a movie based on a children's book, is the scene in which two teen-aged boys are executed for going AWOL from their German military unit.
But on the positive side, there are at least two instances in the film where people are shown praying and both are well done. In one scene, a young soldier recites the 23rd Psalm as he faces extreme danger. As a Catholic parent, I am pleased anytime Hollywood restrains itself from its usual mockery and poor characterization of Christians and our faith. So to see a movie portraying prayer and Christians in a positive light is refreshing.
War Horse is an inspirational and educational movie and I recommend it for older teens and adults. Viewers will enjoy a unique story and a glance back into a period of history that is quickly being forgotten now that all of the veterans of the Great War have passed on. Parents can also use this film to discuss other themes the movie addresses, such as courage, hope and friendship.
War Horse is currently available on DVD and Blu-Ray from Buena Vista Home Entertainment DVD.